Click below for related story:

Click below for related story:

Click for related story:

Click below for Tony's toons:

Click below for related story:

Click below for related story: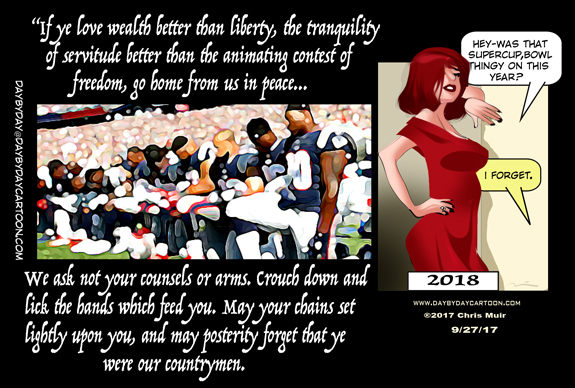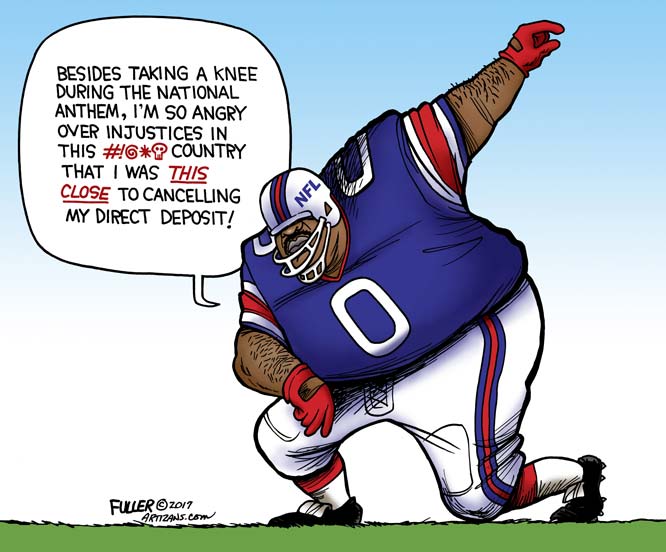 This Thread Brought To You By The Letters C & L:

In Case You Missed It Dept.:
The Washington Nationals became the first team to win their division by winning the National League East for the fourth time in seven years. The Nationals have a huge advantage over visiting teams when they play at home in Washington. It's hard to focus on baseball when you visit the circus.
Lindsay Graham proposed an Obamacare replacement bill giving states the money to provide health care. No one's in a hurry to fix anything. Whether they fix health care, cut taxes, secure the border or not, Congress still gets paid their full salary under the Americans with No Abilities Act.
President Trump addressed an Alabama rally Friday where he encouraged NFL owners to fire their players who refuse to stand during the Star Spangled Banner. NFL players should stand up for the National Anthem. It gives them good practice for when the judge walks into the courtroom.
Stephan Curry provoked an NBA war with President Trump by refusing a White House invite before it was extended to the team. Other NBA stars leaped to Curry's side. You know we're in for it all winter when you cannot tell if comments about Trump are from LeBron James or Kim Jung Un.
North Korea's foreign minister gave a speech to the UN in which he labeled Trump President Evil. Everyone's upset. The Washington Post, the New York Times, CNN, CBS, NBC and ABC had eight months to come up with the nickname President Evil and couldn't, and North Korea did it in two days.
Kim Jung Un fired off a bitter message to the United States after President Trump convinced the Chinese banks to cut off North Korea. He didn't pull any punches. The dictator called Trump deranged, a frightened dog, a dotard and a gangster, which prompted CNN to offer Kim his own show.
Hillary Clinton's new book What Happened topped the best-seller lists on Sunday. Bill Clinton collected twelve million for his memoirs while Hillary collected eight. That's twenty million for the memories of a couple who for years have repeated, under oath, that they couldn't remember anything.
The White House reminded reporters Monday that President Trump can point to three major successes that he has accomplished without Congress this year. The stock market is at an all-time high, unemployment is at a sixteen-year low, and everyone is finally talking about NFL football again.President Trump stood by his criticism of NFL players who refuse to stand up for the National Anthem before games and kneel instead. It just shows you how presidents are different. President Obama would have backed the players and Bill Clinton never complained about anyone taking a knee.
The New York Post pointed out the NFL rulebook states players must stand at attention during the National Anthem with their helmet in their left hand and not talk. The league enforces every rule except this one. Tom Brady accused Commissioner Roger Goodell of working with deflated balls.
The National Football League roared into week three Sunday amid a slump in TV ratings that made no sense. Look at the match-ups. Viewers had the New York Giants vs. the Philadelphia Eagles, the Dallas Cowboys vs. the Arizona Cardinals, and then the big game, Donald Trump vs. All of Them.
President Trump tweeted it's okay by him if teams stand with locked arms during the National Anthem. Then he saw it. When Trump saw them standing along the sideline with their arms locked together, it gave him a great idea for the wall, if he can finesse it past the UN Human Rights Council.
The GOP health care bill died a second time Tuesday when the usual few Republican senators killed it before it got to the floor. Republicans are having a terrible tortuous time trying to vote together on a health care bill. Laurel and Hardy looked better trying to push a piano up the staircase.
Bill Clinton sold his first novel, The President Is Missing, to Showtime to be made into a movie mini-series. It was announced amid the NFL National Anthem controversy. It's a reminder that the last president who urged an American to take a knee got impeached for lying under oath about it.
North Korea's foreign minister said at the UN Monday that a state of war now exists between North Korea and the U.S. He said they'll start shooting down U.S. planes. When reporters asked North Korea's foreign minister what life is like under such a brutal regime, he said he can't complain.
The NFL anthem protests spread to Major League Baseball Monday and began branching out in many directions. Last night, I dropped to one knee in the Comedy Store parking lot in solidarity with a half dozen black fellow comedians. They chased me away after I rolled four consecutive sevens.
Alabama Judge Roy Moore won the GOP Senate nomination Tuesday. He became famous by refusing a court order to take down the Ten Commandments at their Capitol. Lawyers, legislators, mistresses and lobbyists had sued, saying the Ten Commandments create a hostile work environment.
— Argus Hamilton
There's growing speculation that Mark Zuckerberg will run for president. He's already got a great slogan: "Vote for me or I'll retag you in every photo you've ever untagged."
Another big story today: Anthony Weiner was sentenced to 21 months in prison for his sexting scandal. Weiner can get out in eight months with good behavior. So he'll be serving 21 months.
I saw that yesterday, a little girl wore a pantsuit to Hillary Clinton's book signing in New York. Hillary was like, "That is so sweet… now are you gonna buy a book or not?"
— Jimmy Fallon
Anthony Weiner had been sentenced to nearly two years in jail for sexting with a teenager. Weiner said, "Come on, Your Honor, by the time I get out, she's going to be 20."
— Conan
Democrats are reportedly hopeful that controversial judge Roy Moore's Republican primary victory in Alabama may boost their chances for a competitive Senate race in the state. In a related story, Wile E. Coyote says he really feels like he has a shot this time.
— Seth Meyers