Click below for Tony's toons:

Click below for related story/video: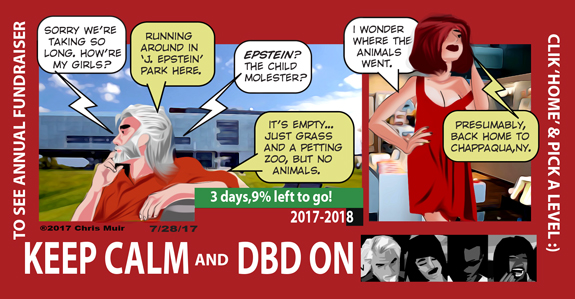 Click below for related story:

Click for related video:

Click below for related story:

This Thread Brought To You By The Letter C:

In Case You Missed It Dept.:
President Trump demanded the U.S. Senate postpone their vacation until they are able to fulfill their promise to repeal Obamacare and replace it. He said U.S. senators don't deserve a vacation until they do the people's business. The senators say this is what happens when the people elect an outsider.
O.J. Simpson will be a free man in October after he was granted parole Thursday. Washington saw the story through its own lens. CNN believes the Russians have offered O.J. a job hacking U.S. elections for Trump, while Nancy Pelosi criticized the decision in Nevada to parole Homer Simpson.
Special Counsel Bob Mueller broadened his Russia-U.S. election-hacking probe into President Trump's business deals with Russia. Four years ago, Trump brought the Miss Universe pageant to Moscow just as Putin was divorcing his wife. Look, there's either a brotherhood of man or there's not.
The Chicago City Council just passed a resolution establishing Chicago as a sanctuary city for the Syrian refugees fleeing the war zone in their home country. Has anybody watched the news lately? Chicago isn't just a sanctuary city for Syria war refugees, it's a continuing education seminar.
President Trump appointed billionaire Anthony Scaramucci as White House Communications Director. He's a New York Italian with family ties to the construction industry. It was probably just a slip of the tongue when he addressed reporters and vowed to do everything he can to serve The Don.
The Weather Channel reported triple digit temperatures baking the South and the West as well as the Eastern Seaboard. At least it's taken everybody's mind off of politics. Rosie O'Donnell and Barbra Streisand and Kathy Griffin just threatened to move to Canada if this heat doesn't let up.
Senator Chuck Schumer introduced A Better Deal as a Democratic campaign theme Monday in Virginia. It makes the same set of promises to working-class Americans that Trump ran on last year and won. You don't need a reason to drink, but it's nice to know there are lots of them out there.
The Tokyo Times quoted robot technicians Monday saying that robots take on more and more human characteristics the more functions they perform. A Japanese robot apparently committed suicide Friday by jumping into a pool of water. Who knew the robot was researching Hillary's e-mails.
Washington, D.C. was reported Friday to have one of the nation's highest alcohol consumption rates per capita. That may not last. Vodka drinkers in Washington, D.C. have begun going to AA or quitting cold turkey because they don't want to get dragged into this whole Russian collusion mess.
President Trump's son-in-law Jared Kushner went before House and Senate panels this week to explain his Russia meeting last year. It was nothing but a pitch for adoptions. Democrats are basically down to begging for someone to give oral sex to President Trump so they can impeach him.
President Trump addressed fifty thousand Boy Scouts at the Jamboree Monday and the boys cheered Trump, chanted his name and booed Obama. Educators were horrified. Apparently it takes just a patriotic speech and no teachers around to undo nine months of public school education.
President Trump hinted for Attorney General Jeff Sessions' resignation Tuesday. His recusal from the Russia probe laid Trump wide open to a Special Counsel probe. The same day, CNN broke into regular programming with a bulletin announcing that Russia had ties to the former Soviet Union.
Sacramento certified a petition Tuesday to be circulated to try to get enough signatures to go on next year's ballot that calls for California to secede from the Union. Every Southerner who's moved to Los Angeles had the same reaction. Just when I thought I'd gotten out, they drag me back in.
President Trump suddenly tweeted a ban on trans-genders in the military on Wednesday. GOP lawmakers can't understand why he picked this fight. The best guess among Republicans is that President Trump was watching a MASH rerun and he thought he was doing Corporal Klinger a favor.
The White House decision to ban trans-genders from the military stemmed from an argument over defense bill medical coverage. It's politics. Republicans were mad because the legislation paid for gender reassignment surgery and Democrats were mad because it only gave a soldier two options.
— Argus Hamilton
The publisher of Hillary Clinton's upcoming memoir announced today that the title of her book will be the statement "What Happened." Well, that's the censored version.
— Seth Meyers
This afternoon, Republicans in the Senate narrowly won a vote on Obamacare. When I heard this news, I was bummed. And then I found out it was simply a vote to begin debating the future of Obamacare. Which raises the question — what the hell have they been doing this whole time?!
— James Corden
Hillary phoned the president's office shortly after midnight. "I need to talk to the president, it's an emergency!" exclaimed Hillary.
After some cajoling, the president's assistant agreed to wake him up. "So, what is it that's so important that it can't wait until morning?" grumbled Trump.
"A Supreme Court Judge just died, and I want to take his place," begged Hillary.
"Well, it's OK with me if it's OK with the mortuary," replied President Trump.