Click below for Tony's toons:

Click below for related story:

Click for related audio: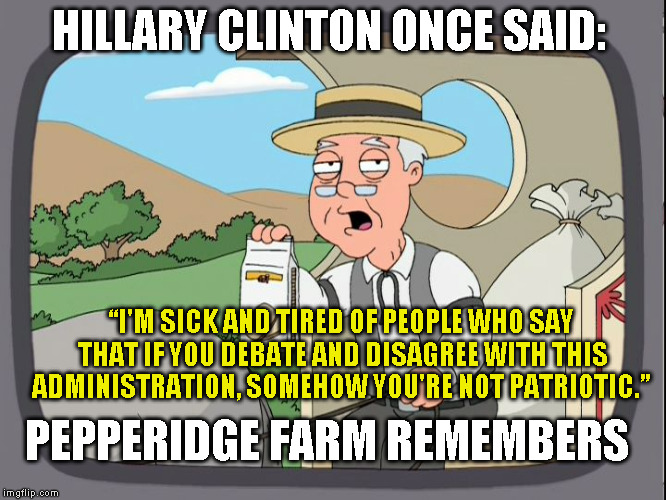 Click below for related story:

Click for related audio:

Click for related video:

This Thread Brought To You By The Letters C & L:


In Case You Missed It Dept.:
Sir Paul McCartney sang at a fundraiser for Hillary Clinton at the Hamptons on Sunday. She charged guests fifty thousand dollars per ticket to attend. The Beatles used to sing that money can't buy you love, but we've learned over the years that it can put you in a really good bargaining position.
Hillary Clinton e-mailed classified data on her private server after she left office. This on top of the Clinton Foundation influence peddling and erased e-mails. To comply with truth in advertising laws, Hillary's dropping I'm With Her as her campaign slogan and replacing it with Nixon's the One.
President Obama went to Midway Island Friday to quadruple the size of the marine sanctuary, throwing local fishermen out of work. He's tied to a party obligation to combat global warming. There's now incontrovertible evidence that global warming is the number-one cause of documentaries.
Donald Trump hijacked the news cycle by suddenly accepting Mexico's president's invitation to come to Mexico for a meeting Wednesday. Democrats reacted instinctively. The moment Donald Trump crossed into Mexico, Hillary ordered the U.S. Corps of Engineers to get cracking on that wall.
Donald Trump drew rave reviews for his demeanor on his visit to Mexico Wednesday where he was received by President Enrique Pena Nieto. It was touch and go. Republicans held their breath till Trump left without nicknaming him Nicky Pinata or Speedy Gonzalez at their joint press conference.
Hillary Clinton spoke to an American Legion convention Wednesday and discussed her belief in America's world leadership. We don't always appreciate her true gifts. Hillary Clinton is the very first American to get an e-mail from a Nigerian prince and actually receive the twenty-million dollars.
The FBI released records of its interrogation of Hillary for the e-mail scandal Friday. Dozens of times she told agents she couldn't recall what happened and blamed it on her concussion at the time. The Clinton Foundation isn't enough loot for this lady, now she's trying to get an NFL pension.
Colin Kaepernick's refusal to stand for the National Anthem in San Diego drew praise Friday from leaders of Black Lives Matter. It's a growing chorus. The Black Lives Matter protestors are becoming so loud that Brad Pitt and Angelina Jolie can barely hear themselves at the dinner table.
Anthony Weiner was offered a job as a porn star by Vivid Entertainment Friday in the wake of his sexting scandal. Three years ago he was a leading U.S. congressman and now he's the pool boy, the cable guy and a plumber. The White House wants credit for adding three new jobs to the economy.
North Korea set off alarm bells by successfully firing a missile from a submarine in the Sea of Japan. Their hypersensitive dictator Kim Jung Un makes everyone nervous. Kim just executed his vice premier in charge of education after he found out that Dennis Rodman was not President Obama.
Iran's government released mock news video footage of an attempted U.S. military invasion of Iran which is thrown back into the sea by the Iranian military. It shows the Iran navy sinking a U.S. naval battleship which sinks with the U.S. flag on fire. The video brought Colin Kaepernick to his feet.
Donald Trump's trip to Mexico drew grudging praise from Democrats for going into a country where he's so despised. Not to be outdone, President Obama just agreed to go to Oklahoma. He's vowed to build a Planned Parenthood Clinic in Tulsa and he's going to make Pat Robertson pay for it.
President Obama arrived in China for an economic summit over the weekend where he met with China's president Xi Jing-Ping and with China's cabinet members. It was long overdue. Obama's been the President of the United States for almost eight years, it's about time he met with the owners.
Philippine president Rodrigo Duterte called President Obama a son of a whore for questioning his human rights record. He also called Pope Francis a son of a whore for doing it. The good news is, President Obama has just achieved every president's dream of being publicly compared to the pope.
The U.S. Soccer Federation was urged by two U.S. senators Friday to enact equal pay for women players. It's not an issue in entertainment. Jennifer Lawrence was America's highest paid actress last year at forty-six million dollars, barely edging out our second-highest paid actress, Hillary Clinton.
Donald Trump surged into a lead in several of the presidential polls Monday due to surprising support from Millennial generation voters. This generation of voters may identify with Trump's narcissism. Millennials in Los Angeles don't do cocaine because it blocks their reflection in the mirror.
Vladimir Putin was busted plotting to cyber-meddle in the U.S. election to get even with Hillary, who as Secretary of State tried to subvert Putin in his last presidential campaign. It's nasty. Putin's spies gave Hillary the same poison that kills all his opponents, but it only gave Hillary a little cough.
House Democrats threatened a government shutdown in three weeks by refusing to cooperate on a spending bill. The negotiations involving Members and lobbyists always last right up until the midnight deadline of the final date. It's always the slowest night of the year for DC escort services.
Philippines president Rodrigo Duerte apologized at the Group of Twenty Summit for publicly calling President Obama a son of a whore. He said he didn't intend any disrespect. It's just that he's been watching Donald Trump and he thought that's the traditional way you address Democrats
President Obama cited Vladimir Putin for cyber-attacks in America and ordered the Russians to desist at the G-20 Summit. When the two leaders met out in the hallway, photographers caught them standing eye-to-eye and glaring at each other. Everyone loves the staged drama at the weigh-ins.
Hillary Clinton claimed amnesia forty times in her FBI interview about e-mails while Trump admitted he donated to Florida's attorney general to protect Trump University from fraud suits. Comedians all agree. No matter who wins, it will be fun having Nixon back in the White House again.
Southern California firefighters were called in for airplane water drops Tuesday when the hills east of L.A. erupted in a brushfire that caused six hundred families to evacuate their homes. It's those Democratic fundraisers. L.A. fire marshals have traced the cause of the fires to Hillary Clinton's pants.
The Dallas Morning News endorsed Hillary Clinton Friday, making Hillary the first Democrat the arch-conservative newspaper ever backed. It's a shocker. This is the nicest thing the Dallas Morning News has said about a Democrat since they said it's a shame JFK had to be killed in Dallas.
Donald Trump told the Commander-in-Chief Forum in New York on Wednesday that if he's elected president he will give the Pentagon thirty days to come up with a plan to defeat ISIS. He said he will do it with the greatest generals there ever were. He plans to buy them at the General Store.
The New York Daily News dropped former Congressman Anthony Weiner as a staff columnist Thursday following his third sexting scandal. His wife Huma left him Monday. Oscar Mayer's hot dogs just dropped the name wiener's in favor of Cosby's because the name tested better with consumers.
— Argus Hamilton
A photo of Obama greeting Putin is going viral, because people think they're giving each other the death stare. I feel like both guys were just thinking, "Oof, he's gotten old."
Donald Trump has just revealed that he's not practicing for the upcoming debates in a "traditional" way, and has not been using a stand-in for Hillary. Which explains why today I saw Trump at Ann Taylor Loft yelling at a mannequin. "That sweater set isn't very presidential! Sad!"
— Jimmy Fallon
The latest CNN poll has Donald Trump beating Hillary Clinton 45 percent to 43 percent. But the good news is, the staffer who informed Hillary is expected to make a full recovery.
A national Washington Post survey found that Donald Trump has historically low support among college-educated women. It's from their new segment, "Stuff You Could Have Guessed."
— Seth Meyers
Last night was NBC's Commander-in-Chief Forum where Hillary Clinton and Donald Trump gave live back-to-back interviews about national security, and the candidates decided who would go first with a coin toss. But there was an awkward moment when Trump saw the coin, grabbed it, and put it in his pocket. "So what? I didn't see a coin, what coin, what are you talking about?"
In all seriousness Donald Trump called heads, but just in case he lost he also called the whole thing rigged.
— James Corden
Have you heard about the latest FBI report on Hillary Clinton's emails? Probably not, because they put it out the Friday before Labor Day. You couldn't hide that news more if you welded it inside a lead capsule and fired it into the heart of the sun.
One of the big revelations of this latest email dump is that Secretary Clinton didn't use just one smartphone in office as she originally claimed, she used up to 13 different mobile devices in four years. Madam Secretary, tell the truth. Are you a crack dealer? Because I can't figure out why else you would need 13 phones.
Trump may have gotten a sign he will win in November because Trump's attorney, Michael Cohen, tweeted out a picture of a cloud that kind of looks like Donald Trump, along with the caption, "In case anyone is unsure as to who will be our next #POTUS, the Lord has chosen the people's messenger." Yes, God made a Trump-shaped cloud, though the cloud actually holds a position longer than the real Donald Trump.
Last night they held, like, an appetizer debate — an "amuse douche," if you will. It was called the Commander-in-Chief Forum. Hillary Clinton and Donald Trump answered questions about national security. It was the first time the two of them were in the same room since Trump's wedding.
— Steven Colbert
Did you see Donald Trump dancing at the gospel church? Donald Trump this weekend, as part of his new initiative to woo African-American voters, visited the Great Faith Ministries Church in Detroit. He said he was there to listen. I don't know what he was listening to but based on his dancing, it clearly wasn't music.
After three weddings you'd think he'd have learned how to dance. I bet if you asked him if he's a good dancer he'd say, "Yeah, I'm the best, nobody dances like me." And it's true, nobody does dance like that.
Matt Lauer interviewed Donald Trump and Hillary Clinton back-to-back in front of a crowd of American veterans. The winner, the leader who came off strongest and best last night, was Vladimir Putin.
Donald Trump loves Vladimir Putin. After all is said and done, if he doesn't become president, at the least, Donald Trump will have amazing sex with Vladimir Putin.
The one guy Donald Trump has nothing bad to say about is Vladimir Putin. Maybe he is afraid Putin will cut off his supply of wives.
— Jimmy Kimmel