Click below for related story: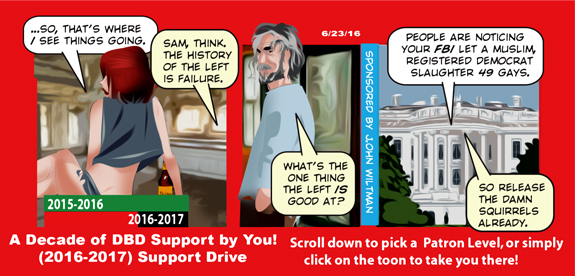 The EU Without England: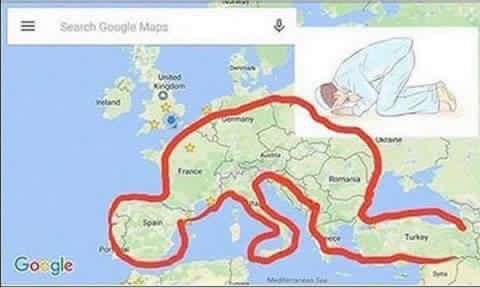 Click below for related story:

Click below for related story:

Click below for Tony's toons:

This Thread Brought To You By The Letter C:


In Case You Missed It Dept.:
ABC's poll showed sixty-eight percent of Independent voters don't like Trump and sixty-three percent don't like Hillary. They're the two most unpopular nominees in polling history. Meanwhile, Queen Elizabeth holds on to her eighty percent approval rating like it's a rent-controlled apartment.
Donald Trump shrugged off his poll slump Thursday and vowed to win by honestly addressing the nation's mortal threats. Many people are fed up with political correctness. It's been four days since the latest tragedy to hit Orlando and President Obama still won't say the words radical alligator.
Disneyworld was horrified Wednesday when an alligator snatched a little child as it played on the banks of a pond adjoining the Disney Park. The politicians were next to swoop in. President Obama visited Orlando and he said let us not blame the alligator, let us blame the alligator's dentist.
President Obama and Joe Biden stopped by Disney World after they appeared in Orlando on Thursday. They were met at the front gate by Mickey Mouse who was wearing a Joe Biden watch. While in Disney World, they walked into Fantasyland and rode the Islam is a Religion of Peace ride.
Orlando shooter Omar Mateen was refused body armor by a gun store owner last week who'd overheard him speaking Arabic and notified the FBI of a suspicious person. The FBI wrote down the phone message very carefully. The message said to be sure to pick up a quart of milk and a loaf of bread on the way home.
Donald Trump at a Dallas rally Thursday stood by his Muslim ban and slammed Republicans who won't endorse him. He then threatened to ditch the GOP and run for president on his own this year. It's the craziest thing Donald Trump has said since whatever crazy thing he said yesterday.
Donald Trump took the day off the campaign trail Tuesday to celebrate his seventieth birthday with his wife and family at Trump Tower in New York. What a character. Whenever Donald Trump gazes up at the millions of stars in the sky at night, he realizes just how insignificant everyone else is.
The Census Bureau reported another low birth rate in the United States last year for the tenth straight year. The news gets better. The Social Security Administration reports that the most popular baby names last year were Noah and Emma, while the least popular names were Donald and Hillary.
The ABC News poll showed Trump has a sixty-eight percent disapproval rating among Independent voters and Hillary has a sixty-three percent disapproval. It's just awful. Their negatives are so high, they're both vying for the same VP candidates, Jesus Christ, Cookie Monster and Frank Underwood.
Elizabeth Warren visited the Hillary Clinton headquarters on Friday as she was reported to be Hillary's top choice for VP. It would set off an interesting chess match. If Hillary picks Liz Warren, then Donald Trump will pick Governor Bobby Jindal and say he has a real Indian for a running mate.
House Democrats walked out on a moment of silence in Congress for the Orlando victims last week. They want stronger gun laws and refused to deal with House Republicans who want tighter immigration law. Congress's approval rating is now two percent, meaning they're tied with skim milk.
President Obama flew to Florida with Joe Biden and Marco Rubio aboard Air Force One to address the nation and share some of his perspective on the latest tragedy which occurred in Orlando. The president didn't mince any words. He declared that alligators are the reptiles of peace.
The New York Times blamed the Orlando shooting on Republican attitudes toward gays. This is just nuts. In today's politically correct world, if a boy self-identifies as a girl, he's a girl, but if a gay Muslim who's a registered Democrat self-identifies as a warrior for ISIS, he's still a Republican.
The White House edited the transcript of the Orlando shooter during his killing spree to erase his screams of allegiance to ISIS Monday. They'd rather blame gun violence and homophobia. If the World Trade Center attacks had occurred today it would be blamed on bigotry against skyscrapers.
The New York Post reports that New York gay bars began receiving threats after the Orlando attack. The Orlando shooter was from Queens, Bernie Sanders is from Queens and even Donald Trump is from Queens. Hillary Clinton is now demanding that America build a wall around Queens.
Donald Trump scored seventy percent disapproval in a poll Friday while Hillary's unfavorable rating was sixty-three percent. The same poll shows that twenty-five percent of Americans are undecided about the election in November. They don't know if they're moving to Canada or Australia.
Hillary Clinton and Bill posed for pictures with their new grandson that Chelsea delivered late Saturday. Already the baby is demanding free food, free milk, free health care, and expecting everyone else to solve his problems. Bernie Sanders sent him a note welcoming him to the movement.
Donald Trump decided to fire his campaign manager Corey Lewandowski Monday in favor of Washington D.C. insider and lobbyist Paul Manafort. Insiders told reporters that Lewandowski was rude, abrasive, angry, hot-tempered and insulting. In other words, Trump thought he'd become too soft.
A Secret Service agent wrote in a book that he caught Bill Clinton having sex with Monica on top of the Oval Office desk. He also caught Bill with Eleanor Mondale on the Map Room desk. Bill wasn't our greatest chief executive but the White House desks were never shinier than when he was the president.
GOP Senator Lindsay Graham of South Carolina told CNN Monday that he predicts the next president of the U.S. is going to be a she. It startled his fellow Republicans. Lindsay either backs Hillary or he has inside information that Donald Trump is transitioning to Donna to carry California.
Donald Trump named noted ministers to his Faith Advisory Board to try to woo evangelicals to him. It's an uphill fight. On Tuesday, a thousand evangelical ministers meeting in New York weighed the choice between Trump and Hillary and issued a statement announcing that God is Dead.
Donald Trump and Hillary Clinton exchanged fire in their campaign speeches Wednesday. He called her a liar, a traitor and a bribe taker and she called him a grifter, thief and an exploiter of the working class. It wasn't on the Teleprompters, they were just reading each other's business cards.
The White House ripped the GOP Senate Tuesday for failing to pass gun control in the wake of Orlando. It's all relative. On the other hand, on Saturday a man tried to grab a cop's gun to kill Donald Trump at a Vegas rally, and the White House issued a statement saying that boys will be boys.
Johnny Manziel reported to Dallas police Tuesday he was the victim of a hit-and-run accident in North Dallas. He's still awaiting his trail for assault, partying, defying authority, and he's lost two agents. About all he has left is an oil fortune and his degree in people skills from Trump University.
— Argus Hamilton
Congrats to Chelsea Clinton, who welcomed her second child over the weekend. After the birth, Bill brought flowers, while Hillary brought a focus group to help name the baby.
Donald Trump fired his campaign manager, Corey Lewandowski. Trump said Lewandowski was controversial, impulsive and short-tempered — and will make a great running mate.
A new Election Commission report just came out saying that the Trump campaign isn't doing so well financially, and is practically broke. It's not good — in fact today, Trump stole a bunch of towels from his own hotel.
The report revealed that Donald Trump's campaign started this month with only $1.3 million, which is almost $8 million less than Bernie Sanders' campaign. Even Bernie was like, "How does it feel to be poor, you LOSER!"
Things are really heating up between Donald Trump and Hillary Clinton. Hillary gave a speech yesterday attacking Trump, and then today, Trump gave a counter-speech attacking Hillary. Which means 2016 will always be remembered as the election of "Shut up" — "No, you shut up." In a speech today, Donald Trump blasted Hillary Clinton, calling her "a world class liar" and "the most corrupt person to seek the presidency." Trump then said, "Wait a second, I think I'm in love."
Hillary gave this speech about Trump yesterday and said, quote, "He's written a lot of books about business, but they all seem to end at Chapter 11." Then Bernie Sanders said, "Even I felt that burn!"
While he was back at the Capitol yesterday, Bernie Sanders accidentally went to the Republican lunchroom. Bernie knew he wasn't in the Democrats' lunchroom when he couldn't get a free lunch.
Bernie Sanders still hasn't officially dropped out of the race for president, but earlier today, he gave a speech with the theme "Where do we go from here?" I think he was basically asking the crowd for directions back to Vermont.
— Jimmy Fallon
Donald Trump thanked crowds in Phoenix for their support this weekend, saying, "I feel like a supermodel, except like times ten." By the way, "supermodel times ten" is also his spray tan setting.
Chelsea Clinton gave birth to a son this weekend. Unfortunately, due to his young age, he's a Sanders supporter.
Bernie Sanders admitted today that he doesn't believe he can become the Democratic nominee. He also said it might be time to give up on his dream of qualifying for the X Games.
— Seth Meyers
Donald Trump has dumped his campaign manager, Corey Lewandowski. Lewandowski said he's going to return to his old job, as a manager in pro wrestling.
In a speech today, Donald Trump blasted Hillary Clinton, calling her "a world class liar" and "the most corrupt person to seek the presidency." Trump then said, "Wait a second, I think I'm in love."
Bernie Sanders admitted today that he "doesn't appear" to be the nominee. Just to make sure, Bernie said he'll stay in the race for two more years.
Today Donald Trump called on Bernie Sanders' supporters to support him instead. Trump said, "Ignore my policy positions, just focus on my New York accent and crazy hair."
— Conan
The election is still going to be Hillary Clinton versus Donald Trump. It is the very first time in American history that both political parties have the same slogan, "2016, look, it is what it is. What are you gonna do."
Last night, the Federal Election Commission announced how much cash each campaign has on hand. And Hillary Clinton is burying Donald Trump $42 million to $1.3 million. I always knew those huge skyscrapers were overcompensating for something in his pants. I just never imagined it was his wallet.
— Steven Colbert