Click below for Tony's toons:

Click below for related story:

Click below for related story:

Click for related audio: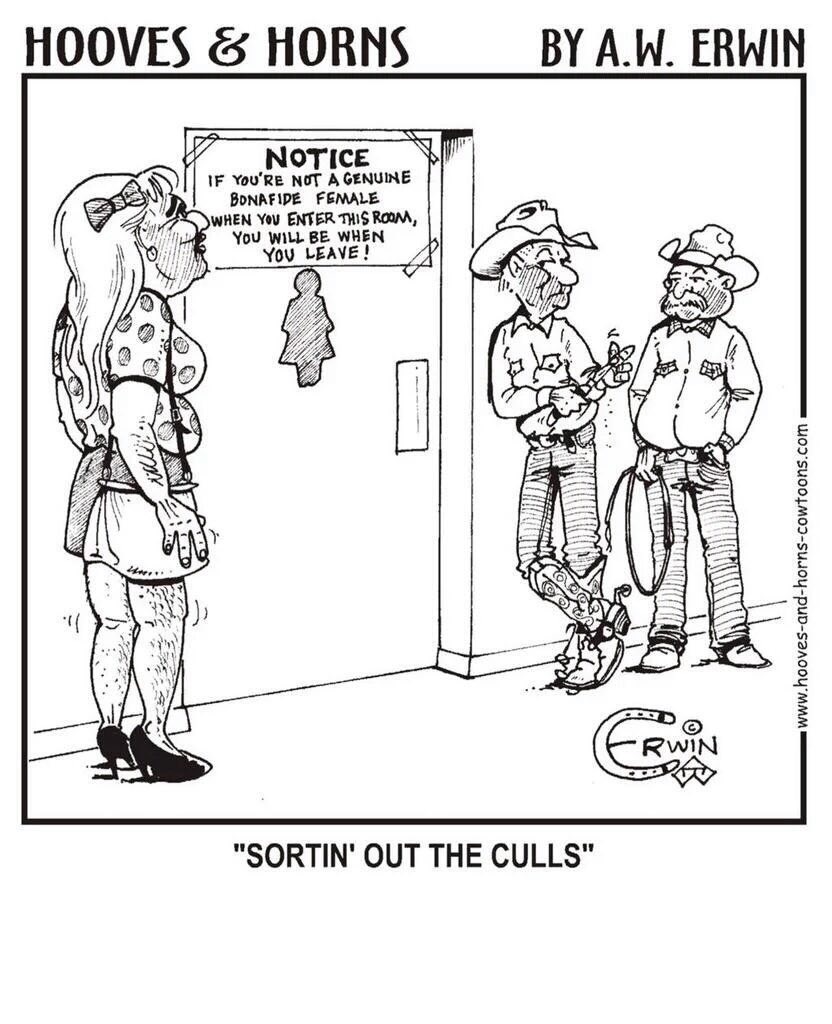 Click below for related story:

Click for related audio: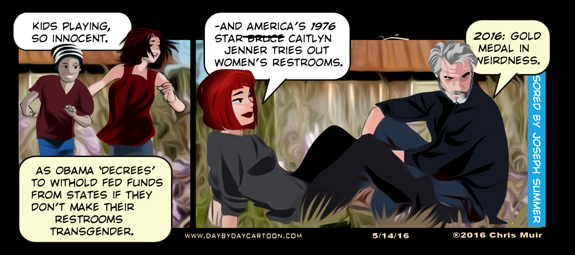 This Thread Brought To You By The Number 0:


In Case You Missed It Dept.:
Caitlyn Jenner will pose nude on the Sports Illustrated cover to mark forty years since her glory in the Olympics. What a saga. She had to win the Men's Decathlon, father four Kardashians, change sexes and get a boob job before she could look Hollywood in the eye and admit she was a Republican.
Bernie Sanders won in Indiana Tuesday promising free college and college loan forgiveness to young people. A recent report said that millions of recent college grads have moved back in with their parents. Don't you hate it when you child-proof your house, but somehow they still get in?
President Obama agreed to send two hundred U.S. combat troops into Syria to aid in the fight against ISIS. The military situation could be grimmer by next year. According to the Rasmussen Poll, we're eight months away from having a president who starts Twitter wars with Rosie O'Donnell.
Donald Trump marked Cinco de Mayo Thursday tweeting that the world's best tacos are made at the Trump Grill in Trump Tower in midtown Manhattan. Meanwhile, down the street, two illegal aliens walked into a bar. Then Donald Trump bought the bar so that this never happens again.
MSNBC host Chris Matthews didn't know he was on the air Tuesday when a hot microphone caught him ogling Melania Trump onstage. Eight years ago he said Obama gave him a tingle up his leg. Hardly a day goes by that another man doesn't have trouble deciding which bathroom to use.
Donald Trump refused to apologize to offended Hispanics Thursday for tweeting the picture of himself eating a taco salad to celebrate a Mexican holiday. He'll survive. Americans may elect Donald Trump president out of morbid curiosity just to see what he'll do for Martin Luther King Day.
Donald Trump was cheered by West Virginia coal miners Thursday after his win in Indiana allowed him to sew up the GOP nomination. His visage was a little too dazzling. Trump was wearing so much face-bronzer it looked like he was running for president of the Seattle chapter of the NAACP.
Sarah Palin went rogue Sunday and vowed to try to unseat Speaker Paul Ryan in his district for his hesitation to endorse Donald Trump for president. It's not easy to be funnier than Sarah. During her most recent speech, Sarah Palin's train of thought derailed and there were no survivors.
President Obama told reporters he's committed to building a monument in Washington D.C. honoring the gay lifestyle in America. It came as a big surprise to locals. Everybody thought that the tarp covering the Washington Monument was just to protect it from the rain during renovations.
White House adviser Ben Rhodes admitted Friday that the White House lied to the American people about the Iran nuclear deal. It's a firestorm. You knew something was wrong at the time when the president assured Americans that if we like our nuclear security, we can keep our nuclear security.
Donald Trump announced Monday he can win the presidential election without a united GOP behind him. The man has never lacked for self-confidence. When Donald Trump looks up into the night sky and gazes at all the stars in the Milky Way, he realizes how insignificant everyone else is.
House Speaker Paul Ryan set off a furor Friday when he said he was not ready yet to support and embrace Donald Trump's presidential candidacy. Trump's gaining every day. The latest poll says sixty percent of Republicans would like to see Trump as president, if only out of morbid curiosity.
Vladimir Putin presided over a military parade in Moscow Tuesday marking the end of World War II. In Russia, Putin can order polonium poison put in your tea and kill you whether you want it or not, you have no choice. But here in America, you get to choose your poison, Hillary or Trump.
Caitlyn Jenner will appear nude on the cover of Sports Illustrated wearing only a strategically placed U.S. flag over his still-male genitalia. It's dicey. The reason Donald Trump is so vague about the North Carolina bathroom law is that Caitlyn is his only female voter outside his immediate family.
President Obama gave an inspirational commencement address at historically black Howard University Saturday. It drew from his own life. President Obama told the graduates there's no limit to what they can accomplish in life as long as they're willing to dream big and ignore the U.S. Constitution.
Hillary Clinton admitted she misspoke after telling West Virginians she was going to put the coal mines out of business. Last week she said joining a gang is like joining a family. Hillary has made so many gaffes on the campaign trail that her new Secret Service code name is Joe Biden.
Fox News suspended its star political reporter Ed Henry after it was learned he's been having an affair with a Vegas stripper while covering the Hillary Clinton campaign. It required urgent action. Fox News suspended Ed Henry before Hillary could smear the stripper and leave Bill for him.
Bernie Sanders won the West Virginia primary Tuesday, giving the Socialist ten victories in the last fifteen primaries over Hillary. It was the easiest win in political history. After Hillary vowed to shut down the coal industry she finished fourth behind Bernie Sanders, Bill Cosby and Woody Allen.
Newt Gingrich was reported a top choice for VP by Trump Wednesday. Between them they have six wives, countless affairs, and a sex scandal that led to resignation. Republicans refuse to concede the Who's-Going-to-Have-the-Most Entertaining-Presidency vote to Bill and Hillary without a fight.
London's new Muslim mayor Sadiq Khan made a pitch for unity on Wednesday, insisting that living the Muslim faith is completely compatible with living the faith exemplified by British Protestantism. That's evident in the U.S. Five times a day President Obama answers the Call to Golf.
— Argus Hamilton
Everybody is getting into the spirit for Mother's Day, even Donald Trump, who tweeted: "Happy Mother's Day! The best tuna casserole is made at Trump Tower Grill. I love mothers."
After speaking out against Donald Trump's plan to build a border wall, former Mexican President Vicente Fox has invited Trump to Mexico as a peace offering. Fox was like, "When you land, just look for my driver 'El Chapo.'"
Then Trump invited Vicente Fox to Trump Tower Grill to see what real Mexican food tastes like.
Yesterday, the State Department said that it can't find any emails belonging to Hillary Clinton's senior technology staffer from when Clinton was secretary of state. Then Hillary said (WIPES OFF HANDS), "You also won't find that staffer, either."
Sources claim that the drug lord El Chapo will be extradited from Mexico to Brooklyn next month. Which raises the question — if we're bringing El Chapo here, who exactly are we trying to keep out with that giant wall?
— Jimmy Fallon
Donald Trump won last night's Nebraska Republican primary with 61% of the vote. Which is impressive until you remember he's the only one left running.
— Seth Meyers
Donald Trump is now saying that his proposed ban on Muslims was "just a suggestion." Then he admitted his presidential campaign is "just a bar bet."
Here in California, a white supremacist has resigned from being a Donald Trump delegate. When asked why, the white supremacist said, "Because that guy's crazy."
— Conan
Donald Trump is finally sitting down with his nemesis, Speaker of the House Paul Ryan, to discuss unifying the Republican Party after they have been trash-talking each other for months. Ryan is in a difficult spot. On the one hand, Trump has made a lot of offensive statements. On the other hand, Trump is his party's only chance at winning — and because it's Trump, both of those hands are very, very tiny.
— James Corden
Donald Trump said that Hillary was nasty and mean to the women who slept with her husband. Trump's wives did not treat his mistresses like that at all. They had the courtesy to let him marry them.
Donald Trump has been married three times. Attacking Hillary Clinton for having marital problems is like the pot calling the kettle black, or in Trump's case, calling the kettles "the blacks." By the way, the kettles love him.
— Steven Colbert