Click for related video:

Click below for Tony's toons: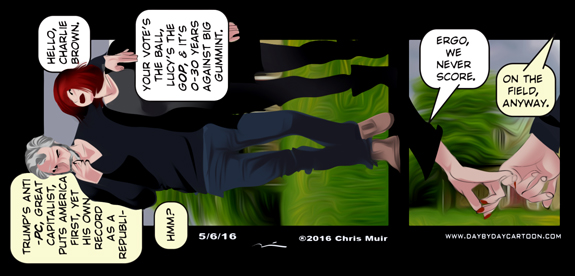 Click below for related story: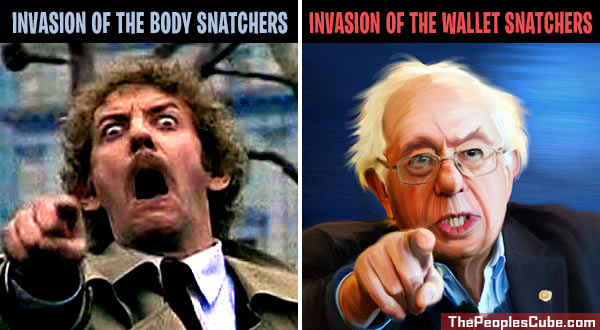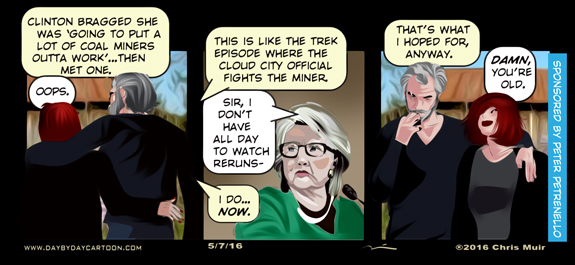 Click for related video:

Click below for related story:

This Thread Brought To You By The Letters C & W:


In Case You Missed It Dept.:
Former House Speaker John Boehner spoke at a symposium at Stanford University Thursday where he weighed in on the presidential race. It created quite a dust-up. John Boehner compared Ted Cruz to Lucifer in the flesh, and then he said he likes Trump, and now even Lucifer is confused.
John McCain's re-election campaign fundraiser was arrested by Phoenix cops Tuesday when they found a working meth lab, cocaine and counterfeit one hundred dollar bills in her garage. Everybody is shocked. Who says John McCain doesn't know what the young voters of Arizona want?
Donald Trump led his rivals in the latest Indiana poll Friday and appears headed for the GOP nomination. He must watch every word he says from now on. He said Tuesday we don't have much of a race anymore and the Ku Klux Klan sent him a memo encouraging him to show more self-esteem.
Indiana basketball coaching legend Bobby Knight campaigned with Donald Trump Thursday onstage in Evansville. He's famous for cursing referees, badgering players, throwing chairs and slugging cops in Puerto Rico. He has done everything it takes to makes Trump look more presidential.
Donald Trump evaded protesters trying to block his entrance to the Hyatt at a California GOP convention Friday. On live TV, Trump had to run across the freeway, wade through a gully, climb over a barbed wire fence, then slip into the service entrance. That's how everyone comes to California.
The Los Angeles Times praised the rioters who jumped on police cars prompting blood to shed outside a Trump rally in Costa Mesa on Friday, calling them a revitalized Latino rights movement. These protesters have one message for the GOP candidate. They want to make America Mexico again.
President Obama spoke at the White House Correspondents Dinner Saturday and thanked the press for working with him for eight years. The collusion has produced a nasty backlash. Last week the guy who shot Bambi's mother endorsed Donald Trump, and Trump went up six points in the polls.
President Obama addressed reporters last week and hailed the signing of the Global Warming Pact signed in Paris by dozens of industrialized nations. The cause will never suffer from lack of publicity. It's widely accepted as fact that global warming is the number-one cause of documentaries.
Hillary Clinton apologized to Native Americans after she told NBC News she had dealt many times with men who'd gone off the reservation. It's odd for her to apologize. She's the one who charged companies two hundred thousand dollars for her talk entitled the Importance of Free Speech.
Caitlyn Jenner accepted Donald Trump's invitation Friday and shot video of herself using the women's restroom in Trump Tower. The video footage she shoots is very true-to-life. After Caitlyn leaves the restroom she walks back inside and berates herself for not remembering to put the seat down.
Seattle's former NAACP president Rachel Dolezol discussed race on the Today Show Monday a year after she resigned, after her parents outed her as a white person pretending to be black. Racial identity is last year's news. Today, Americans want to know what bathroom she identifies with.
Donald Trump became the presumptive GOP candidate for president Tuesday after he won in Indiana, forcing Ted Cruz out. Pollsters said Trump did surprisingly well with Hispanic voters, with working women and the middle class voters. He now has six months to win over the Republicans.
Hillary Clinton had to apologize to Native Americans for stating in an NBC interview she had spent many years dealing with men who'd gone off the reservation. It must have been deeply offensive. Not only did Indians protest but Donald Trump offered her one hundred dollars for the line.
Bernie Sanders scored another upset victory over Hillary in Indiana Tuesday then he laughed when Democrats asked him to step aside. The Bernie Sanders campaign has a new slogan for the rest of the Democratic primary campaign. The opera ain't over until the fat lady is cleared by the FBI.
Ohio Governor John Kasich gave an emotional speech withdrawing from the presidential race less than a day after Ted Cruz quit. Now it gets exciting. The GOP nomination contest is down to the two remaining candidates, Good Donald and Bad Donald, and this could be the bloodiest fight of all.
Donald Trump cited a news story Tuesday that Cruz's father worked for Fair Play for Cuba in New Orleans with Lee Harvey Oswald. It got nastier. Cruz responded by producing a grainy photo of Trump's German great-grandfather marching into France with Kaiser Wilhelm in World War One.
President Obama thanked his fifth-grade teacher Mabel Hefty on National Teacher's Day last Tuesday. Bernie Sanders thanked his fifth-grade teacher, Moses the Lawgiver. For his part, Donald Trump took a gap year in the fifth grade to study under Don Rickles at the Sahara Hotel in Las Vegas.
The White House announced Monday that President Obama's older daughter Malia has been accepted to attend Harvard. She will first enjoy a gap year. That will allow her to lollygag around Europe and see the world at her leisure, the same way her father is spending his last year as president.
— Argus Hamilton
The White House announced yesterday that Malia Obama will attend Harvard University, but that she plans to take a year off before starting. Malia got the idea after seeing how much fun her dad is having with HIS year off.
Yesterday, Heidi Cruz was asked about rumors that her husband is the Zodiac Killer, and she said, "I've been married to him for 15 years, and I know pretty well who he is." That story again: Heidi Cruz didn't actually deny that her husband was the Zodiac Killer.
— Jimmy Fallon
Bernie Sanders said yesterday that he intends to do everything that he can to prevent a Donald Trump presidency. Though I don't know what he can try that Donald Trump hasn't tried already.
— Seth Meyers
Donald Trump criticized Hillary Clinton today for making a remark he says is offensive to Native Americans. Trump's exact words were "you stole my speech."
Today in Indiana, Ted Cruz called Donald Trump "a pathological liar," "a narcissist," "utterly immoral," and "a serial philanderer." Then Cruz turned to Trump and said, "Teach me, Master!"
In honor of Cinco de Mayo, Donald Trump tweeted a picture of himself eating a taco bowl. Then, Trump tried to get Mexico to pay for it.
Donald Trump said his vice presidential pick might be one of his presidential rivals. When asked which one, Trump said, "I haven't decided yet if it's the liar, the loser, or the fat pig."
— Conan
Earlier in his campaign, Trump was calling Carly Fiorina ugly. Now he's saying he might pick her up if she falls down. Guys, that's growth. He's getting more presidential every day.
Just before Cruz exited the race, Donald Trump implied that Ted Cruz's dad may have been involved in the Kennedy assassination. This is very unlike Trump. Usually, he thoroughly investigates a story before repeating it to millions of people.
— James Corden
Trump has graciously said that he's willing to consider some of his previous Republican rivals [for vice president], as long as they don't remember any of the things he said about them. So we might be looking at the ticket of "Trump/Liar '16," "Trump/Low Energy '16," "Trump/A Face Like That '16," and "Trump/Lil' Sweaty Guy '16." All winning tickets.
— Steven Colbert
Trump is trying to spread the tabloid story that Ted Cruz's dad is somehow involved in the assassination of JFK. While I'm pretty sure Rafael Cruz didn't have anything to do with the assassination of JFK, he does look like a James Bond villain from the Sean Connery era.
The Indiana primary was today and we're this much closer to having a president who starts Twitter fights with Cher.
Donald Trump says that by the 100th day of his presidency the wall on the border of Mexico will be designed, the immigration ban on Muslims will be in place, the four horsemen will be scheduled to appear. He'll get to work chiseling Roosevelt's face on Mount Rushmore and replacing it with his own.
— Jimmy Kimmel