Click below for reality:

Click below for related story:

Click below for related story: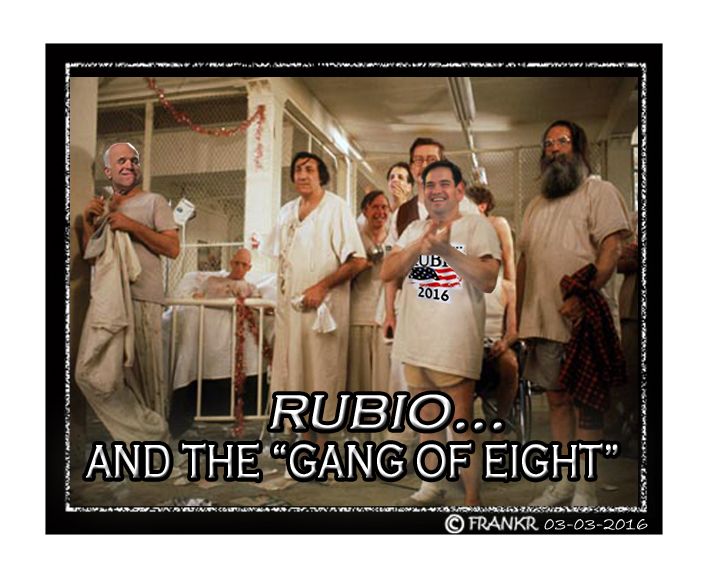 Click below for Tony's toons: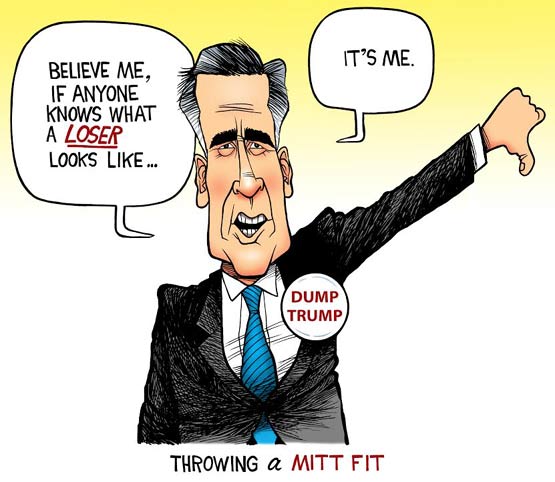 Click for related video:

This Thread Brought To You By The Letters L & C:


In Case You Missed It Dept.:
Mitt Romney ripped Donald Trump's character and judgment in a speech on Thursday. One thing's for sure. If Romney had gone after Obama with the same venom as he just did a fellow Republican, he would be running for re-election today and the two-term limit would have been lifted.
Mitt Romney led the GOP establishment opposition to Donald Trump Thursday. It's part of the game. Under the U.S. two-party system, the Democrats spend all their time attacking the Republican Party candidates and the Republicans spend all their time attacking the Republican Party candidates.
The Academy Awards had their lowest TV ratings in eight years Sunday despite Leo DiCaprio taking home Best Actor. It makes no sense. Where else but the Oscars can you get lectured on the dangers of global warming by a movie star who flies supermodels to his yacht aboard helicopters?
Hillary Clinton's former aide at the State Department turned state's evidence Thursday in the probe over her emails. It's worrisome. If Hillary gets indicted too soon for mishandling classified secrets information, it could end the Clinton dream of being America's first two-impeachment family.
Hillary Clinton's huge victory in South Carolina was topped by Hillary's victories nationwide in the Super Tuesday primaries. It was easily the biggest week of her national political career. Hillary won by so many millions of votes that Bernie Sanders is demanding that they be redistributed.
The Washington Post profiled a D.C. psychiatrist whose patients say that they're suffering from what he calls Trump Anxiety. It's a fear over what happens if he wins. Most Americans read this story and laugh, while Warren Buffett reads this story and purchases the company that makes Prozac.
The GOP presidential race heated up more Friday after their knock-down drag-out debate the night before. Ted Cruz is now trying to link Donald Trump to a New York Mafia mobster. In an attempt to repair the damage to his reputation, the mobster's denying making any contact with Trump.
Donald Trump vowed Friday he won't run as an Independent if he doesn't get the GOP nomination. His party ties are not that deep. Mitt Romney said he's not a Republican, Hillary said he's not a Democrat and Pope Francis said he's not a Christian, so that pretty much leaves Viking Raider.
Bernie Sanders in the debate Sunday said if you're white you don't know what it's like to live in the ghetto. Blacks were offended by the word ghetto. You'd think he'd been endorsed by the Klan, which is ridiculous because as we know if he'd been endorsed by the Klan he'd be leading in the polls.
The New York Post reports porn star Amy Lindsay who was spotted in a Ted Cruz TV commercial in South Carolina decided to support Donald Trump for president. It's probably out of professional respect. In the last fifteen years, only Donald Trump has changed positions more times than she has.
President Obama will fly to Havana, Cuba, for an historic official state visit next week. The U.S. president will meet with both Cuba's president Raul Castro along with the Cuban Revolutionary Council. Diplomats agree this trip is an important first step toward Cuba obtaining nuclear weapons.
President Obama passed his final White House physical with flying colors Monday. It showed he lowered his resting heart rate, lowered his blood pressure and lost five pounds since last year's physical. It is amazing when you consider the stress he's under from his seventy-two hole work week.
Donald Trump topped the polls after winning the GOP primaries in Michigan and Mississippi Tuesday. That was just the opening act. Later that night, Donald Trump made history by becoming the first presidential candidate to sell steaks, wine and bottled water at a post-victory press conference.
— Argus Hamilton
Hillary Clinton came up a lot during the debate. At one point, Ted Cruz even asked Trump why he wrote four checks to Hillary for her campaign in 2008. Trump said, "Look, with all the women I have to write checks to every month, it's easy to get carried away."
Marco Rubio called out Donald Trump for his clothing collection that is being made in China. But trump defended his Chinese workers, saying "I treat those kids like they're my own."
— Jimmy Fallon
Colin Powell said recently that the Republican candidates are playing "junior high school tricks on one another." Powell then excused himself to take a call from someone looking for Dick Hertz.
In last night's Democratic debate, Hillary Clinton said that several times a day, she speaks to God. But never for under $100,000.
Over the weekend, Arnold Schwarzenegger officially endorsed John Kasich. Or he said "a horse junkie is sick," it's hard to tell.
At his press conference last night, Donald Trump had a display of Trump Steaks even though Trump Steaks went out of business nine years ago. When they heard that nine-year-old meat was for sale, Arby's said, "We'll take those."
Despite Donald Trump's tough stance on immigration, Trump Modeling Agency is being accused of hiring lower-paid foreign models. In his defense, Trump says those aren't laborers, those are "future wives."
A reporter claims she was pushed down by one of Donald Trump's campaign advisers. Isn't that crazy? Donald Trump has a campaign adviser.
— Conan
But there was a moment last night where Bernie Sanders kind of struggled. He said when you're white you don't know what it is like to live in a ghetto. And some people are angry at Bernie for using the word ghetto. And they're reacting as if he was just endorsed by the KKK. Actually, they're not reacting that way. If they were, he would be in first place.
— James Corden
Marco Rubio has been going hard after Donald Trump, even making fun of Donald's small hands. And I didn't have a show on Friday, so it's been four days since Trump's response, but I don't care, this is what I do for a living, and there's no way I'm going to let an entire election go by without talking about this. But Donald, the issue is out there, and the people have the right to know the size of your "Executive Branch." So I'm calling on you to release the long form. Or the short form. No judgment.
— Steven Colbert
He also got a high-profile endorsement from Arnold Schwarzenegger. Arnold officially endorsed John Kasich yesterday. Or maybe he endorsed a chicken quesadilla, I have no idea. I really don't know what he's saying. He can't even say "State of California." He endorsed Gov. Kasich and gave him a hug, looked like he could pop his head off. This is particularly interesting. Basically Gov. Kasich is hoping to beat the former host of "The Apprentice" with help from the current host of "The Apprentice," Arnold Schwarzenegger.
There have been more Republican debates than seasons of "Dancing with the Stars." The chairman of the Republican National Committee said he was hoping for a G-rated night tonight. I love that we've reached the point where the party has to remind a candidate not to discuss the size of his [manhood] on television during the debate.
— Jimmy Kimmel