Click below for related story: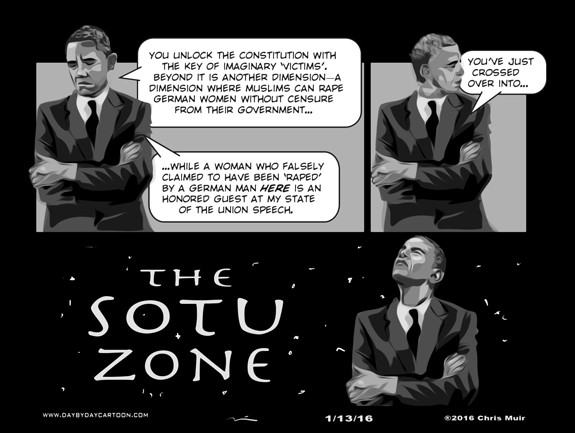 Click below for Tony's toons:

Click below for related lyrics/video:

This Thread Brought To You By The Letter P:

In Case You Missed It Dept.:
Rush Limbaugh blasted the entertainment industry Tuesday for its reflexive support of liberal causes and its insistence on the appearance of politically correctness. Rush called the Hollywood crowd nothing but a bunch of smug, self-important, pampered elitists. He sounds just like my butler.
North Korean dictator Kim Jung Un celebrated his birthday Tuesday by setting off a nuclear device and announcing it was a hydrogen bomb. No one around Kim dared disagree. Say what you will about Kim Jung Un, but his way of firing people is a lot more exciting than Donald Trump's.
Philadelphia police caught a Muslim who tried to kill a cop in the name of Allah Friday. The same day FBI caught two Iraqis plotting ISIS attacks in Texas and California. President Obama plans to host a town hall to discuss how climate change results in gun ownership and white privilege.
President Obama will deliver his State of the Union address to Congress Tuesday in the House Chamber. In his opening line, Obama will declare that the State of the Union is strong. It's always a good idea to start out your speech with a good joke to break up the crowd and get them on your side.
Hillary Clinton was revealed in her e-mails on Friday to have circumvented classification rules when she e-mailed secret material while Secretary of State. It's alarming. If Hillary's indicted before the election, it could end the Clinton dream of being America's first two-impeachment family.
Rolling Stone caused an uproar Sunday by publishing an interview that Hollywood star Sean Penn conducted with El Chapo last fall while the drug kingpin was a fugitive. The interview is unlikely to cause the actor any legal trouble. It's protected under celebrity-coke dealer confidentiality.
President Obama was confronted by Second Amendment advocates at last week's CNN town hall. His gun control order didn't have the intended effect. President Obama neared a record this week when statistics showed only Lincoln's presidency led to more gun sales than President Obama's.
President Obama in his State of the Union speech on Tuesday did his best to sound optimistic about the U.S. economy's prospects in his final year in office. His good cheer fell on deaf ears on Wall Street. The stock market is performing so poorly that Dow Jones just bought a Powerball ticket.
President Obama introduced a Syrian refugee at the State of the Union right after three ISIS terrorists were arrested in the U.S. He insisted the Syrians be let in. As risky decisions go, it ranks somewhere between using Oscar Pistorius's bathroom and agreeing to be interviewed by Sean Penn.
Hillary Clinton's campaign was faced with sinking poll numbers in Iowa Tuesday. Questions about the Clinton Global Initiative donations added to her e-mail problems. Hillary Clinton is beginning to worry about those indictment rumors after Sean Penn called and asked for an interview.
Sean Penn's Rolling Stone interview with El Chapo came out the same day the drug lord was captured. Penn swears he had nothing to do with it. If the actor is suspected by El Chapo of setting him up, the next time we see Sean Penn onscreen it will be in the Oscar night's In Memoriam segment.
President Obama's State of the Union got the lowest ratings of his presidency on Tuesday. The competition is brutal. Many of Tuesday night's viewers came away thinking that America was finally getting tough on terrorism, but those were the people who watched the Gunsmoke re-run on TV Land.
The White House was embarrassed by TV shots of senators, congressmen and kids drifting off to sleep during President Obama's speech on Tuesday. It was endless. The president's speech was so boring that Bill Cosby is now asking women if they'd like to watch the State of the Union with him.
President Obama ripped Donald Trump in his State of the Union and then Nikki Haley ripped Donald Trump in the GOP response. It fell on deaf ears. In Rolling Stone, El Chapo calls The Donald his amigo and that guarantees Trump the best victory parties throughout the GOP primaries.
— Argus Hamilton
At a rally last night in Vermont, Donald Trump refused to let anyone in that wasn't a Trump supporter, but several protesters got in anyway. So keep that in mind the next time you listen to the guy whose biggest campaign promise is keeping people from sneaking in.
President Obama gave his final State of the Union address last night. He started by saying he would give a shorter speech, which seemed to get the most applause of the night.
Obama saying he's going to keep it short is like Donald Trump saying, "Enough about me."
We have former secretary of state and Democratic front-runner Hillary Clinton on the show tonight. Backstage she told me she's a huge fan of the show and I was like, "I know, I read it in your emails."
— Jimmy Fallon
The White House revealed over the weekend that President Obama privately met with Bernie Sanders. And when she heard this, Hillary Clinton fake-smiled so hard, her ears touched in the back.
A new poll shows that in the last month, Hillary Clinton's lead in Iowa has shrunk from 9 percent to 2 percent. Meanwhile, her fake smile has grown 200 percent.
— Seth Meyers
While commenting on the State of the Union, Donald Trump said President Obama is "living in a fantasy land." Donald Trump then went to sleep in his solid gold bed with his supermodel wife.
— Conan
The day after El Chapo's capture, Rolling Stone published a secret interview Sean Penn had done with El Chapo months before that is filled with humanizing details about the misunderstood drug lord — he's a pretty good guy. He only kills people when he can make money off it.
— Steven Colbert