Click for related audio:

Click for related audio:

Click for related video:

Click below for Tony's toons: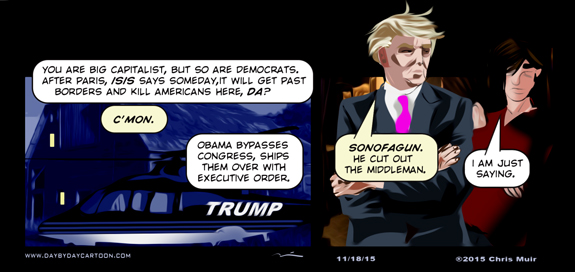 This Thread Brought To You By The Letter P:

In Case You Missed It Dept.:
Missouri student protesters on Thursday demanded a place on campus that is free of any First Amendment inquiry, free of any conservatives disagreeing with them, and free of hearing anything that's hurtful. They call it a safe space. The idea's modeled on President Obama's first year in office.
Kansas former U.S. Senator Bob Dole announced on Tuesday that he's endorsing Jeb Bush for the GOP nomination for president. This piece of news got the attention of political experts everywhere. Who else knows better what it takes to lose to a Clinton in a presidential election than Bob Dole.
The Washington Post reported Hillary Clinton's story that she tried to enlist in the Marines in the Seventies isn't true. It sounded true. According to the recruiter, Hillary really did apply to the U.S. Marines but after she took the psychological test they told her we weren't THAT mad at the Viet Cong.
Donald Trump's proposal to deport all illegal immigrants from the U.S. using due process drew ridicule from the legal community on Friday. It's chaotic enough as it is. Yesterday in Los Angeles, two guys from Mexico showed up in court for their deportation hearings, and the judge married them.
Hillary Clinton campaigned in Iowa last weekend as the national polls show her clearly on the way to the Democratic presidential nomination. She got some excellent advice Friday on how to survive and navigate everything that lies ahead. The bad news is, the advice was from Martha Stewart.
President Obama on Monday expressed his determination to welcome Syrian refugees to the U.S. and he tried to shame Republicans for wanting to bar the door for fear they include terrorists. Republicans don't like the president's plan to vet the refugees, otherwise known as the honor system.
The White House insisted Sunday that the U.S. must admit the Syrian refugees into the country despite GOP calls that it's too dangerous. The president is fully aware of the dangers of admitting these refugees. He realizes that any number of them could slip into Kentucky and begin coal mining.
Hillary Clinton was the consensus winner of the Democratic Party candidates debate Saturday night in Milwaukee. They ran out of things to say and the debate ended seven minutes early. The fireworks didn't start until Hillary surprised Bill by returning to their hotel room seven minutes early.
President Obama gave a cocky interview to Gentleman's Quarterly magazine after they named him Man of the Year. He's nothing if not self-assured. On Monday President Obama stood before reporters in Turkey and insisted that his policy of allowing Charlie Sheen to date around was working.
President Obama was testy at his press conference Monday when reporters questioned him for refusing to rally a coalition ground force to wipe out ISIS. He has his own plan. There's a rumor going around Washington that President Obama is about to name Yoko Ono as Secretary of Defense.
French president Francois Hollande meets with President Obama Tuesday to urge him to step up in the war on ISIS. They have different approaches to radical Islam. Last Friday the French defied stereotypes and declared war on ISIS, and Obama lectured ISIS and declared war on stereotypes.
President Obama gave an interview to GQ magazine Monday in which he compared himself to Green Bay quarterback Aaron Rodgers in the way they both stay calmly in the pocket and look downfield. There are other similarities. They've both had their reputations tarnished by the Panthers.
President Obama hosted a press conference in Manila Wednesday in which he mocked people who oppose allowing Syrian immigrants to enter the U.S. now. He accused all opponents of Syrian immigration if of being afraid of three-year-olds. It just seems that nowadays they blow up so quickly.
French cops wiped out a Paris terrorist cell in a predawn raid on their hideout Thursday. They killed a woman terrorist in the raid. Democrats aren't sure what's more disturbing, that so many women are joining ISIS or that ISIS is only paying them seventy percent of what male terrorists make.
— Argus Hamilton
Tomorrow night is the second Democratic debate! It's the perfect way to spend a Saturday night if you're single. And it's raining. And every movie theater is closed. And you only get one channel.
CBS actually ended the debate seven minutes before it was supposed to finish. Or as Bill Clinton put it, "Oh my God, you're home early!"
Hillary Clinton recently decided to make her Myspace page "private," so people can no longer see some of her old campaign ads. When somebody told her she can just delete it, Hillary said, "I'm not fallin' for that again!"
— Jimmy Fallon
Bernie Sanders will deliver a speech tomorrow, which pundits say will seek to clarify his identity as a Democratic socialist. He'll explain that "Democratic" means he believes everyone should have an equal say, and "socialist" means he's not getting elected.
— Seth Meyers