Click below for Tony's toons: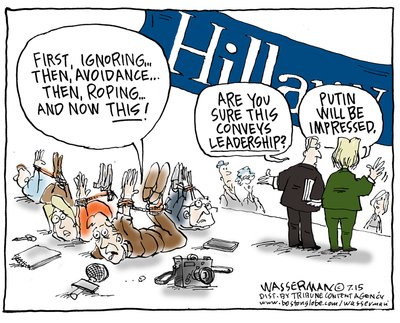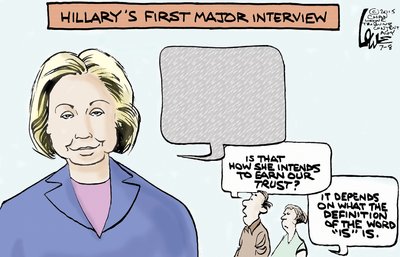 This Thread Brought To You By The Letters C & P:

In Case You Missed It Dept.:
Speaking on the Iran nuclear deal, John Kerry said "we have our own sense of deadline." Like maybe after the first mushroom cloud?
The State Department admitted that, in at least six instances, Hillary Clinton's team altered emails before handing them over. "Hillary 2016: We'll Fix It In Post"
John Kerry warned Iran that President Obama is "ready to walk away" from nuclear negotiations. He's bluffing. You can't walk away when you're on your knees.
Following the Supreme Court decision, a Philadelphia attorney has opened the first LGBTQ divorce firm. Yes, they'll need to decide who gets to keep the money from the Christian bakery they sued.
As part of the nuclear deal, Iran wants the embargo lifted on selling it conventional weapons. Which, no doubt, will ALSO be used for peaceful purposes.
— Fred Thompson
Hillary Clinton raised forty-five million in the first fundraising quarter of the campaign Friday, the most first quarter money every raised by a candidate. The campaign just hit a long pause. Now Hillary has to spend all that money on advertising or go to jail if she keeps it, and she's thinking it over.
The White House will begin allowing White House tour visitors to take video and selfies and use social media in the building. Did they run this by the president and vice-president? Normally, comedians will not allow themselves to be taped while they're trying out that day's jokes on each other.
A Draft Joe Biden for President office opened up in Chicago Thursday tasked to convince the vice president to enter the presidential race. We are lucky to have him. Last year, the U.S. obtained a POW for five Taliban prisoners in a trade that originally included Joe Biden, but the Taliban said no.
Finding Your Roots with Henry Louis Gates was shelved by PBS after it was discovered that the show caved in to Ben Affleck's demand they edit out the fact he descended from slave owners. Talk about bad form. Ben Affleck should apologize for treating the host and the producers like he owns them.
Donald Trump was interviewed on Bloomberg TV Friday and repeated his pledge to be the greatest jobs president God ever created. He's a man of his word. Donald Trump has been a candidate for only two weeks and already he has opened up jobs at NBC, Univision, Macy's and Serta just to take his place.
Finding Your Roots was shelved by PBS for caving in to Ben Affleck's demand that they edit the fact they discovered that he descended from slave owners who fought for the Confederacy. He was right to panic. WalMart, Amazon, and Sears just announced they will stop selling Ben Affleck products.
Independence Day arrived with the popular mood turning sour on the nation's future. Last week a poll said that fewer people say they are extremely proud to be an American. That's because it's increasingly difficult for pollsters to go around the country and find people who are actually Americans.
European leaders met in Brussels Tuesday to discuss what to do about Greece's debt after Greek voters decided to refuse austerity terms from the European Central Bank to help them pay it off. How low is their credit rating now? Greece just put Brian Williams' portrait on their government bonds.
Hillary Clinton infuriated reporters covering her at a July Fourth parade in New Hampshire by forcing them to stand behind a rope away from the street. She needed a little me-time. She had just heard Greece is about to run out of all its cash reserves, meaning she'll never give a speech in Greece.
Oklahoma Governor Mary Fallan said the Ten Commandments display will remain on the state Capitol grounds pending appeal. It's funny. If Moses ever thought the Ten Commandments might need a sanctuary city, you'd guess he'd have picked Jerusalem, but they're a lot safer in Oklahoma City.
San Francisco arraigned the criminal illegal who murdered Kathryn Steinle as she strolled the Embarcadero with her dad. The five-time deportee lived there under the city's sanctuary law. The South Carolina legislature just voted to lower the Mexican flag that flies over San Francisco City Hall.
Hillary Clinton told CNN Tuesday she was never subpoenaed to testify on Benghazi. One hour later, House Republicans produced the subpoena they sent her to testify about Benghazi. Democrats won the argument, saying it's just like Republicans to make fun of a woman who suffered a head injury.
— Argus Hamilton