Click below for Tony's toons:

Click below for related story:

Click below for related story:

Click for related video:

Click for related video: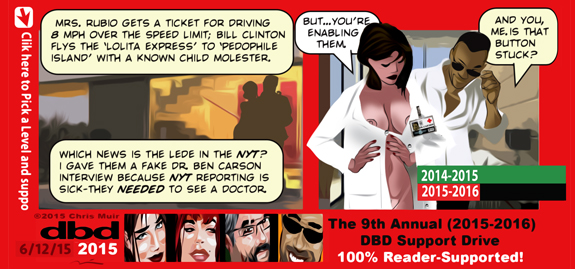 This Thread Brought To You By The Letter C:


In Case You Missed It Dept.:
A new report shows that ISIS has captured 2,300 US-provided armored Humvees from Iraqi armed forces. President Obama is furious. Armored Humvees put out a lot of greenhouse gasses.
President Obama suggested that the US will allow a United Nations vote on Palestinian statehood. Good idea. ISIS is running out of Arab nations to take over.
Polling data shows that approval of the US actually went down 11% among our allies while Hillary Clinton was Secretary of State. But that was only among countries she visited.
At a fundraiser in New York City, Hillary joked that the White House would not have been hacked "had they been using my server". True, but they probably would've lost an Ambassador, instead.
A new report shows that the federal government paid almost $10 million in Medicaid benefits to 200 dead people. It really helped, though. Afterwards, most of them were spry enough to vote in Chicago.
The State Department's Marie Harf said Iran's uranium stockpile is not a problem, saying "I have talked to all the nuclear experts". I know *I* feel a lot better.
— Fred Thompson
President Obama gave interviews to newspapers in Israel last week to assure Israelis that despite his pending nuclear deal with the Iranians, he remains a staunch supporter of Israel. Obama declared that he's the closest thing to a Jew that ever sat in the Oval Office. Is everybody transitioning this week?
The Clinton Foundation was reported Thursday to have taken millions of dollars from an Africa church which considers gays to be devils. Next year's election promises to be the closest ever. As of this morning, the number of Clinton scandals and the number of GOP candidates are tied at ten apiece.
President Obama's job approval ratings hit a new low of forty-one percent Friday, tying his all-time low mark. This could help him on Capitol Hill. If any Democrat refuses to vote to grant him the authorization to negotiate a Pacific free trade deal, he can threaten to campaign for them next election.
President Obama raised eyebrows in the Jewish community last week when he claimed that he's the closest thing to a Jew that ever sat in the Oval Office. It didn't require an eminent historian to dispute this claim. Bill Clinton may have been a little closer to a Jewish person, at least under the desk.
President Obama wrapped up his trip to the Group of Seven summit in Germany Monday saying that the U.S. has no strategy to defeat ISIS. He'd just had a nice talk with the Germans about it. It gave the president confidence the United States could lose the war and still lead the world in auto sales.
The TSA found Monday that it has seventy airport security guards on the terrorist watch list. The TSA also missed ninety percent of weapons in an airport test. However, the terrorists working as TSA guards have seized enough shampoo at the checkpoints to give them the cleanest hair in the Caliphate.
Rhode Island's Lincoln Chafee couldn't announce his presidential candidacy on Facebook last week because he forgot his Facebook password. That's my president. Imagine going to war with China and having to call the Chinese hackers for our nuclear launch codes because they had slipped his mind.
The Senate held hearings on the TSA airport security problems Tuesday. They're hiring men on the terror watch list and TSA agents can't find any weapons in checkpoint tests. America's last line of defense against terrorism could be group photos of seventy-two elderly nuns above the x-ray machines.
GOP candidate Lindsay Graham who is single said Tuesday if elected he will have rotating first ladies. He's already vowed to raise taxes, fund health care, destroy ISIS and he's welcomed transgenders, now he's promising to sleep around. Hillary Clinton doesn't know whether to defeat him or marry him.
The White House press briefing room was evacuated Tuesday when an alarm went off and Secret Service agents swept into the room with bomb-sniffing dogs. Reporters were out of there in seconds. There was no reason for alarm, it was just Hillary Clinton testing out her new press conference plan.
— Argus Hamilton
Olympic figure skater Michelle Kwan is now a full-time paid staffer on Hillary Clinton's presidential campaign. While Tonya Harding was hired to take care of any other Democrats who enter the race.
— Jimmy Fallon
The biggest blockbuster of the summer is coming out, and it stars Barack Obama. It's a Disney picture called "Honey, I Shrunk the Economy."
Hillary Clinton joined Instagram this afternoon and somehow she's already deleted thousands of photos.
Presidential hopeful Rand Paul warned the media today that if anyone is mean to his wife during the campaign, they'll have to answer to him. And Hillary Clinton said that if anyone is mean to Bill, that's totally fine.
— Seth Meyers
Over the weekend, Hillary Clinton supported raising the federal minimum wage to $15 per hour. She said every American should be able to afford to attend one of her speeches.
Jeb Bush is taking his presidential campaign on a tour of Europe. He's telling Europeans, "I like you guys because you're comfortable having the same family in charge for centuries."
— Conan
——————————————————–
Last night I was driving home from dinner and listening to a sports call-in program carried by WGN in Chicago on SIRIUS/XL. People were calling in, very upset, about the goat's head that was sent to Cubs owner Tom Ricketts at Wrigley Field.
Then some guy called in from Tennessee and said, "Why are you people so upset 'cause someone sent a goat's head to Wrigley Field? Aren't you Chicagoans the same guys that sent a horse's ass to the White House?"