Click for related video:

Click below for Tony's toons: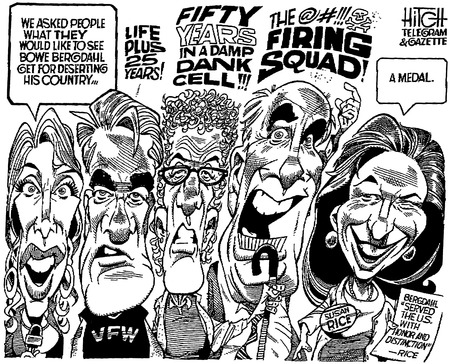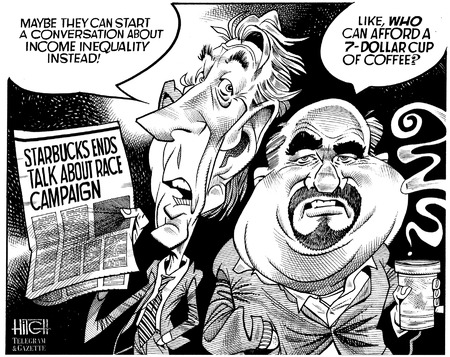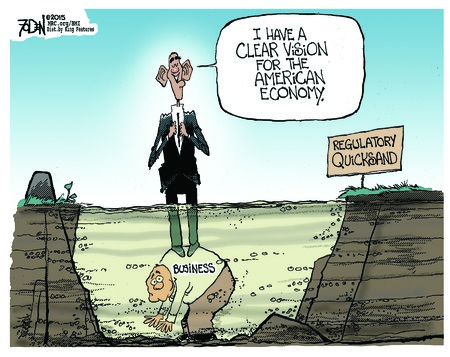 Click for related video:

This Thread Brought To You By The Letter P:


In Case You Missed It Dept.:
President Obama said that "Iran's Supreme Leader Ayatollah Khamenei has issued a fatwa against the development of nuclear weapons". And let me guess – if you like your fatwa, you can keep your fatwa?
Hillary Clinton got a standing ovation for a speech in DC to a group of reporters, despite taking no questions. That's disgraceful. How are we supposed to find out what her favorite color is?
President Obama has hired Joe Biden's communications director to serve as his new senior advise. Wait… Joe was like that when he HAD help?
President Obama finally showed up to an Obamacare event 8 minutes after being introduced, without apology or explanation. Thus setting a record for the shortest wait time ever associated with Obamacare.
New sophisticated computer animation technology is allowing Hollywood studios to use the likenesses of dead actors on screen. Coincidentally, also making them meet Chicago's stringent voting requirements.
President Obama said "I have a very business-like relationship with Netanyahu". Considering what he's done to American businesses over the last 6 years, I have to agree.
The head of the International Atomic Energy Agency said that Iran has failed to provide sufficient information about its nuclear program. Guess Iran figures that when their first bomb goes off, it'll be pretty self-explanatory.
— Fred Thompson
Clinton the Musical opened off Broadway about Bill Clinton's presidency with sex scandals and Hillary scandals, fundraising scandals and real estate scams. They're still fun. Last week Hillary said her guilty pleasure was eating chocolate and Bill Clinton said his guilty pleasure was being Bill Clinton.
The White House insisted that President Obama's Mideast strategy is a success Thursday. We're fighting with Sunnis against the Iranians in Yemen and we're fighting with the Iranians against the Sunnis in Iraq. The last thing the world expected from a polished urbane president was a square dance.
The White House insisted Friday that Barack Obama's Mideast strategy is working. Right now the U.S. government Mideast policy is backing the Iranians against Sunnis in Iraq while backing the Sunnis against the Iranians in Yemen. Laurel and Hardy looked better pushing a piano up the staircase.
President Obama spent this past weekend on a spring break in South Florida where he enjoyed himself at the Florida National Golf Club down in Port St. Lucie. Both his political supporters and opponents agree he will never die of workaholism. President Obama has a seventy-two hole work week.
President Obama's foursome at the Florida Country Club Sunday included a Halliburton board member, the Houston Astros owner and a big Wall Streeter. This is the time for him to network. When Bill Clinton left the White House, he was not allowed to join Pebble Beach, and it's a public golf course.
Hillary Clinton was accused of wiping her server clean when Congress sought her Secretary of State e-mails. It's a generational reflex. When Baby Boomers vowed we'd learned from Nixon's mistakes, it didn't mean don't burglarize your opponent's headquarters, it meant burn all the evidence.
The New York Times expressed concern over the Daily Show's new host, young South African comic Trevor Noah. His past tweets are rife with wisecracks that put down Jews. Last week, Bibi Netanyahu gave a speech to Comedy Central executives urging them not to make the Trevor Noah deal.
The House Select Committee investigating Benghazi called Hillary Clinton to testify by the first of May after she announced that she wiped her server clean of thirty thousand e-mails. There's no such thing as a perfect crime. Bill Clinton wiped his server clean but he forgot to scrub the blue dress.
Indiana's Memories Pizza Parlor owner Scott O'Connell announced he'll seek protection under Indiana's new Religious Freedom Act and he will refuse to cater gay weddings. It raised a moral question that every American is asking. What gay couple would serve pizza at their wedding reception?
Secretary of State John Kerry decided to stay on in Lausanne with Iran's nuclear negotiators for a few more days Tuesday as others went home. These negotiators have become celebrities in Switzerland. John Kerry loves being asked by TV viewers what it was like on the set of the Addams Family.
The Christian Century praised FDR for his policy of public charity and setting an example for Jack Kennedy and Bill Clinton. FDR was in a wheelchair and JFK had a curved spine, while Bill Clinton stood up straight. If you place all the adulterous presidents in a row, it looks like an evolutionary chart.
Hillary Clinton slipped in the polls Wednesday after admitting she wiped her server clean of all her e-mails after she did business as Secretary of State on her private e-mail account. It'll all work for her. Already, Control-Alt-Delete is a subliminal ad for Hillary the same way dry cleaners signs were for Bill.
The Los Angeles Times joined the chorus of concern about the Daily Show's new host, comedian Trevor Noah. His past tweets contain jokes that put down Jews. Noah may be young and handsome, black and funny, but Israel just announced it will never allow Trevor Noah to acquire nuclear weapons.
Senator Bob Menendez was indicted by the Justice Department Wednesday on fourteen counts of bribery and corruption. His fellow Democrats don't want Bob to resign from the Senate because he'd be the tie-breaking vote to confirm the new Attorney General. Sometimes the jokes just write themselves.
— Argus Hamilton
We have first lady Michelle Obama on the show tonight. As you'd expect, security's been pretty tight. On my way in I got five pat-downs, and that was just from Joe Biden.
— Jimmy Fallon
The White House announced that President Obama will attend a summit in Kenya this July. When asked if he's ever been to Kenya, Obama said, "Of course. I was born — no, bored — over there. There's nothing to do in Kenya."
President Obama has reduced the sentences of 22 federal prisoners who were arrested for drug-related crimes — eight of whom were serving life sentences. It marks the first time someone has said "Thanks Obama" but actually meant it.
— Seth Meyers
Hillary has now erased all of her emails, and she also had all of her pantsuits dry cleaned.
Al Gore is 67 years old today. Al Gore, 67 candles on his cake. There's your global warming.
Here's the latest on the Iran deal. Iran says they will not make nuclear weapons if the U.S. doesn't make more movies with Seth Rogen and James Franco.
— Letterman
"I don't mind being thrown off a roof or beheaded, but when you won't deliver pizza to my wedding you've crossed my red line," said the progressive gay man.
— Sierra Marlee