Click below for Tony's toons:
Click below for Baloo's site: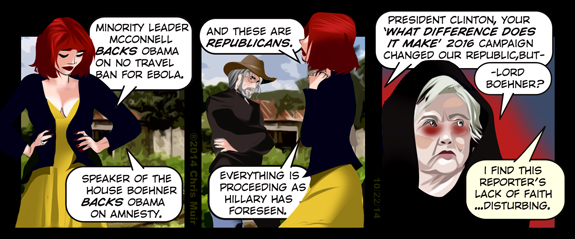 Click for related story:
Click below for related story:
This Thread Brought To You By The Letter P:
In Case You Missed It Dept.:
Turns out that Ron Klain – Obama's new Ebola czar – is a Democrat political operative with no experience in public health. Huh. I thought all those guys were already busy working on Obamacare.
While complaining about not being able to deal with Ebola because of budget cuts, the CDC has spent money on things like a $350,000 study on the importance of imagination while golfing. Which is, apparently, the only effort Obama's sunk into addressing the problem.
The UN is proposing a global 70% tax on the sale of tobacco products. I'd like to see that proposal. I need something to light my cigar with.
— Fred Thompson
The White House disclosed Wednesday they will deploy first-response teams to properly treat any Ebola victims in the U.S. The vice president is the point man in the administration's response to the epidemic. Last night Joe Biden said that his heart goes out to the people of Ebola.
House Democrats insisted on allowing flights into the U.S. from West Africa in hearings on Thursday, fearing that panic over the virus could affect U.S. immigration reform. It depends on the side effects. If Ebola was found to cause wrinkles, Los Angeles would finally close its borders.
Florida's governor's debate between Charlie Crist and Rick Scott devolved into a standoff Wednesday over whether Crist should be allowed an electric fan blowing on him under the lectern onstage. It's therapeutic. It's how Bill Clinton tapered off during the impeachment crisis.
President Obama's job approval ratings hit a new low in the ABC News poll Tuesday. He's losing support quickly. Last week, the Honolulu City Council withdrew a motion to name a popular beach after President Obama, so instead they will name an unpopular beach after him.
President Obama named Ron Klain the Ebola Czar to lead the fight against the spread of the deadly virus. He was the chief of staff for Joe Biden and Al Gore. So he's well prepared if Ebola suddenly starts to make victims put their foot in their mouth or mess with the thermostat.
President Obama went on radio Saturday to calm the nation over the Ebola problem. He declared that we've just turned the corner on diagnosis, on treatment, on airport testing and on hospital safety protocols. We've just turned four corners, we're right back where we started.
President Obama spoke at a Democratic Party rally in Upper Marlborough, Maryland on Sunday. He was heckled by the black crowd who walked out on him. Fearing that this could spread President Obama immediately halted all flights into the U.S. from Upper Marlborough.
Monica Lewinsky discussed her affair with Bill Clinton at a convention in Chile in her role as an anti-cyber-bullying advocate on Monday. It's so hard to believe she's forty-one years old. It seems like only yesterday she was crawling around the White House on her hands and knees.
President Obama taunted Democrats who won't ask him to campaign for them Monday by reminding voters they are his supporters. Talk about the kiss of death. To give you an idea of how low President Obama's approval ratings are, his new Secret Service code name is Ebola.
CNN called Ebola Czar Ron Klain a lawyer with no medical expertise. He reports to Susan Rice, a lawyer with no medical expertise, and she reports to Obama, a lawyer with no medical expertise. Never think a virus will just go away if it requires the same number of lawyers O.J. had.
President Obama said he shared public anger over government ineptness reacting to the Ebola outbreak. During Ebola crisis meetings, Obama cancelled fundraisers in Connecticut and New Jersey. It's the first time he's ever acted on his promise to help get the money out of politics.
The CDC admitted that the Ebola-infected nurse from Dallas Presbyterian Hospital called the CDC before she flew to Cleveland last week. They gave her the green light to take the flight even though she had a fever. As a result, the CDC now stands for Centers for Disease Circulation.
Michelle Obama campaigned for Democrats in Iowa this week with mid-term elections nearing. She never strays off message. On her way home, Michelle Obama stopped off in Missouri and told the Ferguson protesters that if you want to loot right, you've got to eat right.
— Argus Hamilton
President Obama was out playing golf today. He hit one tee shot 250 yards. Even golf balls are trying to distance themselves from him.
Today they arrested a White House intruder who was jumping over the fence to get OUT of the White House.
— Letterman
Over the weekend President Obama told Americans not to panic about Ebola. Then when asked about the Democrats' chances in the upcoming midterm elections, Obama said, "Man, that Ebola sure is scary."
At a polling station while President Obama was standing next to a woman, a man shouted out, "Hey, Mr. President, stay away from my girlfriend." He didn't say this because Obama was flirting with her, but because his girlfriend is a Democrat running for re-election.
Yesterday yet another person jumped the White House fence. It happened again. On the bright side, at least Michelle Obama is finally getting more Americans to exercise.
— Conan
Wendy Davis claims that Greg Abbott wants to ban dildos. We can't have that, so I came up with some campaign slogans for the wonderful Davis. "If you like your rubber penis, you can keep your rubber penis." "A vote for Wendy is a vote for a dildo." "I would filibuster for a fake phallus lover."
— Dixon Diaz
Last night, someone jumped the White House fence again. See, the problem is, if the pizza doesn't get to Obama in 30 minutes, it's free. And that comes out of their paycheck.
There have been seven fence jumps now at the White House so far this year. Maybe it's time the president gives Joe Biden a key.
Fortunate for the intruder, dog bites are covered under Obamacare, so he will be fine.
Maybe people would stop trying to jump the fence if the first lady weren't taunting us by growing gardens full of that sweet, sweet kale.
— Jimmy Kimmel
————————————————————
Early one morning an elderly retired Marine yelled to his wife: "Honey, come see what I created! It's an abstract panorama depicting the 6 years of the Obama presidency."
She yelled back: "Flush the toilet and come eat your breakfast!"