Click below for related story:
Click for related video:
Click below for Tony's toons:
Click below for related story:
Click below for related story: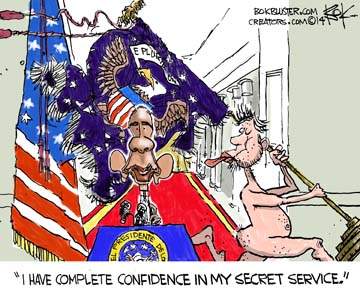 Click for related video:
Click for related story:
This Thread Brought To You By The Letter P:
In Case You Missed It Dept.:
White House security was tightened Monday after the wall was jumped and the mansion entered by a nut job. After a week-long security review, with ISIS threatening to attack the U.S., the Secret Service has agreed to lock the front door. This is why Jackie Stewart runs over people.
The Pentagon announced it'll allow illegal aliens to serve in the U.S. military to help battle terrorists. Admission is easy. They must have come to the U.S. by age sixteen and have unique skills needed by the U.S. military, skills like knowing the easiest way to invade the U.S. undetected.
President Obama defended Islam as a religion of peace in his U.N. speech Wednesday. At the least it broadened his legacy. Following his United Nations speech, the four finalists for cities to host the Barack Obama Presidential Library are Mecca, Medina, Chicago and Augusta.
President Obama stayed busy at the U.N. opening week in New York. What a schedule. On Monday he spoke on climate change, on Tuesday he spoke on terrorism, and on Wednesday he told the U.N. delegates how they can make five hundred dollars a day sitting at their computers.
The U.S. Census Bureau set off a firestorm Thursday when it announced that the incomes of non-citizens went up fifteen times faster than the incomes of citizens in the last year in the United States. Reaction was volcanic. Citizens are now demanding a pathway to non-citizenship.
Al Sharpton disclosed on television Friday that he's in consultation with the White House over President Obama's selection for the Attorney General nominee. This should be fun. Al Sharpton is so obsessed with racial issues, he refers to teeth whitening as mouth gentrification.
The White House repeated no U.S. ground forces in Syria after the Pentagon said they may be needed. Some U.S. allies bomb ISIS in Syria, some bomb ISIS only in Iraq. We finally have a name for the military campaign against ISIS, it's called Operation Making It Up as We Go Along.
Pentagon brass told the Senate U.S. troops won't be needed in Syria Friday but it will take a year to train Syrians and Iraqis. Air strikes are only ordered at night. Secretary of Defense Chuck Hagel confirmed in his testimony Friday that we are at war with ISIS, as far as he knows.
The Economist ran a cover photo of Barack Obama wearing the same flight suit George W. Bush wore eleven years ago aboard the USS Lincoln. Let's guess the rest. Obama's standing in front of that same banner, but instead of Mission Accomplished it says Muslims Accommodated.
President Obama at the U.N. Thursday offered to relieve some of the sanctions on Russia if Russia will agree to abide by international law. The sanctions are starting to hurt. Russia gained so much territory in the last year that Michelle Obama has just restricted its lunch menu.
The Secret Service was ripped in Congress for lax White House security after the intruder Omar Gonzalez made it over the fence and well inside the White House. The president took immediate action. He's just demanded that Congress pass Comprehensive Trespassing Reform.
Attorney General Eric Holder announced Friday he's stepping down as head of the Justice Department after six years in office. He was censured by Congress. As for future plans, the attorney general said he's thinking about going into something new, perhaps law enforcement.
The New York Post ran photos of Bill and Hillary Clinton holding their new grandbaby on Saturday. Their joy was apparent. Chelsea gave birth to a baby girl in New York City and Hillary said she couldn't be happier, unless it were a Latina girl in a swing state like Colorado.
— Argus Hamilton
Today Russia announced that it will join America's fight with the terror group ISIS. Then Putin said, "But I did not say which side."
Congratulations to Chelsea Clinton, who gave birth to a baby girl named Charlotte on Friday. Or as Hillary described the baby, "Third in line to the throne."
Chelsea Clinton gave birth to a baby girl. And get this, she's already said her first word: "Iowa."
After all the recent security breaches at the White House, Julia Pierson, the director of the Secret Service, resigned today. She said she'll miss being in the White House, but knowing the Secret Service, she should be able to come back any time she wants. The door is always open, literally.
After all the recent security problems at the White House, Julia Pierson, the director of the Secret Service, officially resigned yesterday. When asked what she'll do next, Pierson said she just wants to go home and spend some quality time letting strangers in her own house for a while.
— Jimmy Fallon
Chelsea Clinton gave birth to a daughter named Charlotte this weekend. Hillary Clinton was really excited until she remembered that you have to be 18 to vote.
Today the director of the Secret Service, Julia Pierson, resigned. She's being replaced by the White House's new state-of-the-art security system — a scarecrow.
Julia Pierson resigned but she remained in good spirits on her way out. She even politely held the door for some weird guy who was coming in.
— Seth Meyers
It's already autumn. Can you feel the difference in the seasonal change? Let me give you one sure example that it's autumn today. President Obama got off of a helicopter, and saluted a Marine with a cup of hot cider.
Congratulations to Chelsea Clinton. Over the weekend, she gave birth to a baby girl. The baby girl will not confirm or deny whether she's running in 2056.
Secret Service Director Julia Pierson has resigned. She hopped the fence and thanked President Obama.
— Letterman
Today the Secret Service director submitted her resignation. Actually she jumped the White House fence, ran across the lawn, dove through a window, and handed it to the president.
The Secret Service maintains they can use lethal force to stop someone from entering the White House. After hearing this, President Obama invited tea party leaders over for lunch.
The head of the Secret Service, Julia Pierson, resigned yesterday. We found out that she once worked at Disney World. She said she preferred working at the White House because people didn't have to wait in line to get in.
— Conan
————————————————————
Today, the owner of the Washington Redskins, Dan Snyder, announced that the team has agreed unanimously to change their name, after receiving so much national controversy. This, from Mr. Snyder: "Today, we made the decision to agree to change the name of our team. Instead of "Washington Redskins", we will now be legally known as "REDSKINS". (We removed the name 'Washington', as it was too embarrassing.)"
————————————————————
Liberian with Ebola Sneaks into White House Past Drunken Secret Service Agents
by Patrick Finnegan
In the last two weeks, we had an African with ebola board a commercial airliner and fly right into Dallas, and apparently nobody in Congress thought this was a bad idea.
Just to prove the incompetence goes double for the White House, a crazed individual proclaiming that the "atmosphere was collapsing" charged into the White House, which apparently needs a lock on the front door or at least a guard able to stop a lunatic.
Well, based on these recent events, I predict that an ebola-infected individual named Ngumbo Clk Clk Mtumbe from Liberia will scale the White House fence and go charging across the White House lawn with a machete in one hand (and possibly in the other hand the severed head of a co-worker, who was the recipient of "work place violence").
Mtumbe will be chanting "Death to the Infidels" as he runs across the yard as a sign of his support for Diversity and his love for America.
Mtumbe will then push aside the 98 pound lesbian Secret Service agent stationed at the front door, and he will run five laps around the inside of the White House before tripping over the passed out drunken body of a Secret Service Agent and fracturing his head on Obama's desk. The agent will later get a commendation from the president for stopping him.
Mtumbe will then be taken to a nearby hospital where he will infect the entire staff with ebola as he spreads the virus over 1,000 pages of ObamaCare forms that he had to fill out.
At the end of the day, America will learn absolutely nothing because the mainstream media doesn't want us to learn anything about illegal immigration, protecting America from Third World plagues or anything else that may prove beneficial for America.