Click below for related story: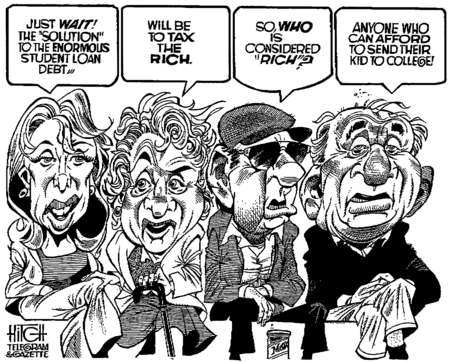 Click below for Tony's toons: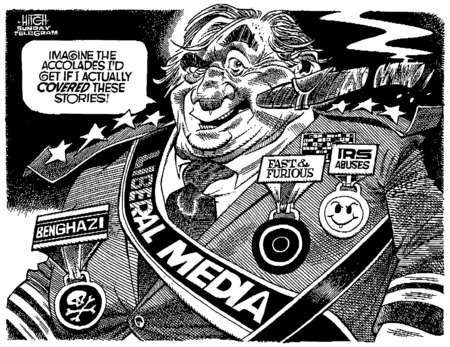 Click below for related 0bama audio:
Click for related story:
Click for related video:
This Thread Brought To You By The Letters A & P:
In Case You Missed It Dept.:
During a recent interview, Nancy Pelosi said "Americans can be very confident in the strength of our economy". Yes, you straw-haulers can be very confident in your camel's back.
Senate Majority Leader Harry Reid described working with Republicans as being like wrestling a "greasy little pig". Whereas working with Harry is like rolling around in the muck you're wrestling the pig IN.
A new poll shows that 57% of Americans think that Obamacare is "not working". The other 43% think it just CAUSES not working.
The EPA Inspector General reported that an EPA official spent up to six hours a day on the taxpayer dime looking at pornography. I'm more worried by what he was doing the other 2 hours.
— Fred Thompson
Monica Lewinsky wrote about her affair with Bill Clinton in this month's Vanity Fair last week, ending a decade of silence. It's hard to believe that Monica just turned forty years old. It seemed like it was just yesterday that she was crawling around on the floor of the Oval Office.
Congress formed a select committee to probe the Benghazi attack Thursday. The White House stopped saying it was caused by an anti-Muslim video, now they think the fire at the U.S. consulate was ignited by global warming. They can't blame Bush so they're going after Gore.
President Obama was at a fundraiser at Disney CEO Alan Horn's home in Bel Air this past week. Democrats offered a hug and a clutch from the president for sixty-four grand. Monica Lewinsky is back in the news for one day and already the White House is selling gropes for cash.
Hillary Clinton held a question-and-answer session with a National Addiction Conference Tuesday but nobody brought up the Monica Lewinsky scandal. That's a relief. Hillary Clinton still can't forgive her husband for violating her ban on the use of tobacco products in her home.
North Korea's news agency ripped President Obama in vile and racist language that was approved by dictator Kim Jung Un. He was given the usual punishment. The UN Secretary General banned Kim Jung Un from the United Nations for life and forced him to sell his country.
Barack Obama was interrupted by a car alarm at a Bel-Air mansion fundraiser while he was denouncing income inequality. It was embarrassing. You'd think if the Democrats really believed in ending income inequality they'd turn off the alarms and let the thieves have the cars.
President Obama drew heat Monday for refusing to identify the Nigerian radical Islamist group Boko Haram as radical Islamists. He must be extra careful now. One slip of the tongue and President Obama will be forced to sell the Clippers before he and Magic can even buy them.
The Chicago Sun Times reported that Bill Clinton is considering issuing a public apology to Monica Lewinsky for the abuse she says that she's endured since the late Nineties. What an era. Monica served with distinction in the Clinton White House as Under-Secretary of Desk.
Karl Rove said that Hillary Clinton may have sustained brain damage last year when she fainted while in Bill's office. She passed out and hit her head on his desk on her way down to the floor. It was a freak accident, most women hit their heads on Bill's desk on their way up.
The Supreme Court last week ruled in favor of prayer at city council meetings. Politicians were quiet on the issue. Walter Mondale once said he felt there's no place for God in American politics and before long it was apparent to all that God felt the same way about Walter Mondale.
The White House unleashed a hashtag offensive on Boko Haram demanding they release the Nigerian school girls. Talk about brinksmanship. The White House warned Boko Haram if they do not respond to our hashtags and release the girls, we will un-friend them on Facebook.
GOP strategist Karl Rove insisted he wasn't suggesting Hillary Clinton had brain damage Monday. A year and a half ago she fainted and struck her head on Bill's desk. It's made out of oak from an eighteenth century British warship which once saw action against the French maid.
Judicial Watch found e-mails Tuesday which link the IRS targeting of conservative groups two years ago to requests from officials in Washington D.C. How bad does it look? President Obama got a call from the Nixon Library offering to sublet the top floor if worse comes to worse.
— Argus Hamilton
Thursday is the deadline for Iran to meet a series of measures to delay its nuclear program. Then Iran said, "Do you mean 'DEADLINE deadline' or 'Sign up for Obamacare deadline?'"
— Jimmy Fallon
During his visit to the White House, the President of Uruguay lectured President Obama about the dangers of smoking. Then, when Obama said "Oh, I quit," Hillary Clinton ran past him into the Oval Office.
— Seth Meyers
They are reopening the Washington monument. The thing has been shut down for the last two years — like the Obama administration.
President Obama was here, touring New York sites in need of repair. He wants to spend money on our infrastructure. For example, the port authority needs fixing. And the Tappan Zee Bridge, where the renovation is already finishing up way ahead of schedule — like Obama's second term.
— Letterman
————————————————————
Last Tuesday President Obama got off the helicopter in front of the White House – carrying a baby piglet under each arm.
The squared-away Marine guard snapped to attention, saluted and said, "nice pigs, sir". The President replied, "these are not pigs, these are authentic Arkansas Razorback Hogs. I got one for Hillary Clinton, and I got one for Nancy Pelosi."
The squared-away Marine again snapped to attention, saluted and said, "excellent trade, sir!"