Today's Toons 3/24/14
political cartoons & more...
Click for related video:
Click for more: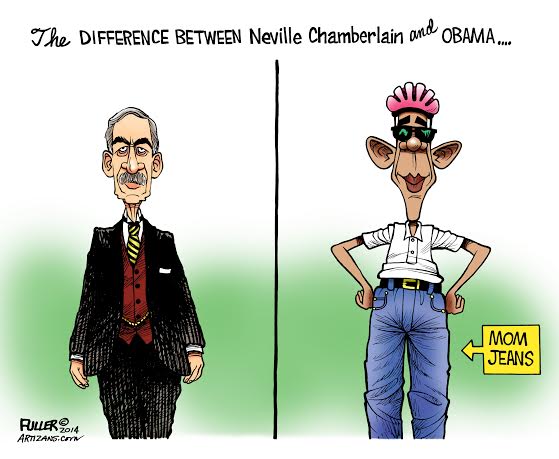 Click for commentary:
Click below for latest Dhimmi rebuttal:
Click below for related story:
This Thread Brought To You By The Letter P:
In Case You Missed It Dept.:
Obama warned Russia to leave Ukraine alone or he would act to take a "toll on the Russian economy". Watch out guys. Ruining an economy is something he knows something about.
A new report shows that, thanks to fracking, the US could soon overtake Saudi Arabia as the world's top oil producer. Then Obama will have to figure out a way to bow to himself.
On the House floor, Democrat Congresswoman Sheila Jackson Lee said America has "lasted some 400 years, operating under a constitution" With leadership like this, I don't think we'll have to worry about making it that far.
A new UN report claims that climate change will wipe trillions of dollars from the global economy. No wonder Democrats want to stop it – it's stealing their thunder.
— Fred Thompson
Berkeley's City Council enacted a ban on all cigarette smoking inside all public buildings within the city limits of Berkeley. California law gives cities a lot of autonomy. The sign at the entrance to West Hollywood notifies visitors that you are now entering a Work-Free Drug Place.
Speaker John Boehner invited Pope Francis to address Congress in June. The pope got rid of his limousine, he turned down living in his palace for a one-bedroom apartment and he lives a life of celibacy. A member of the Kennedy family will be on hand to deliver the rebuttal.
President Obama met with Ukraine's leader Thursday and vowed serious action if Russia annexes Crimea. The president of Russia said he won't act unless the Crimean parliament passes the bill. Now it's official, Obama's getting it from everybody for ruling by executive order.
Vladimir Putin rejected U.S. peace ideas and massed troops on Ukraine's border Friday as he prepared to seize Crimea. It's part of his master plan. Vladimir Putin wants the Nobel Peace Prize, but he believes you have got to act like you don't want something in order to get it.
President Obama sent two boxes of White House brewed beer to Canada's prime minister to pay off an Olympics bet. The boxes arrived marked Honey Porter and Honey Blonde. The Canadians read the labels and just assumed the Clintons were already back in the White House.
President Obama told a young audience if they can't afford Obamacare they can cut off cable TV or cell phone service to pay for it. Reaction was volcanic. Sasha and Malia just called that New Jersey teenager who sued her parents to see if she wants to make it a class-action suit.
President Obama froze the assets of seven top Russian officials and slapped U.S. sanctions against Russia along with EU sanctions. If you're the U.S. astronaut about the Space Station, you've got to be worried about the sanctions against Russia, considering they are your only ride home.
NBC News reports the earthquake that struck Los Angeles damaged only one building on Monday. The jolt was sudden and sharp. The earthquake flipped the Gallup Organization's office building upside down and now President Obama's approval rating is eighty-three percent.
President Obama cited progress in the War on Terror during his presidency last week in an interview. There's evidence of progress. George W. Bush used to say the terrorists hate us for our freedom and our prosperity, and today they have to think of a new reason to hate us.
The White House this week decided to use March Madness as a last minute push for more Obamacare enrollees among young people. The backlog is huge. Some people said they had to sit at their computers for nine straight hours, breaking the old record set by Anthony Weiner.
Republicans on Capitol Hill went on TV Tuesday and called Vladimir Putin's expansion policy something no one's seen since Adolf Hitler. For goodness sake, they know he is nothing like Hitler. He only annexed the Crimea, it's not like he made us buy health insurance.
Louisiana's lovable Democrat legend Edwin Edwards announced he'll run for Congress Sunday. The four-time governor served jail time for Indian casino kickbacks and can't run for state office. Louisiana law limits you to four terms–two in office and two in prison.
Ukraine said that Russian troops entered Ukraine and seized a natural gas distribution center Saturday. It makes no sense. The latest theory on CNN is, Vladimir Putin did not order the invasion of Ukraine, the Russian army mysteriously veered seven hundred miles off-course.
— Argus Hamilton
This week the White House said the economy is continuing to pick up steam, but then went on to say that the unemployment rate is still "unacceptably high." Incidentally, being unacceptably high is also a big reason many people are unemployed.
The standoff in Ukraine keeps getting worse. But a new poll shows Vladimir Putin's approval rating has actually gone up 10 percent since he sent troops into Crimea. When he heard that, Obama just shrugged and sent troops to invade Canada.
— Jimmy Fallon
The Obama administration announced it is going to require colleges and vocational schools to demonstrate that they are properly preparing students for jobs after college. So don't be surprised if your chemistry class tomorrow is all about how to make a cappuccino.
Vice President Biden said today that the U.S. is considering sending troops to the Baltic states bordering Russia. According to Biden, the Baltic states are the territories located just past Boardwalk and Park Place.
President Obama released his March Madness bracket this morning, picking Michigan State to win the tournament. In response, Vladimir Putin started moving troops into Gonzaga.
Kobe Bryant told ESPN that he thinks President Obama could make the Lakers roster this year. I don't know about that. He's a good shooter but he can't seem to pass anything.
— Seth Meyers
First lady Michelle Obama now has blond highlights in her hair. In fact, her hair has a higher approval rating than her husband.
— Letterman