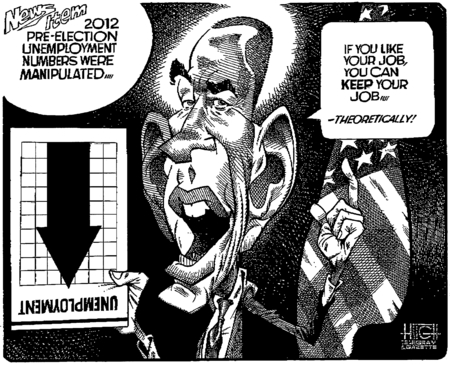 Click for story:
Click below for Tony's toons:
Click below for related video:
This Thread Brought To You By The Letters C & P:
In Case You Missed It Dept.:
CNN reports that a woman the President hailed as an Obamacare success story in his Rose Garden speech now says she won't be able to afford insurance. Sadly, even if she could, Obamacare doesn't cover getting thrown under a bus.
A new report shows that, on average, the federal government puts a new regulation out every 2.5 hours. Now figures on how often those regulations put a new company out of business.
It turns out that the Justice Department admitted in October that most Americans were at risk of losing their employer health care plans. Assuming they don't lose their employer first.
In a recent interview, President Obama said that Obamacare had a "rockier rollout" because no Republicans voted for the bill. Yes, blame the avalanche on the rocks that DIDN'T fall.
— Fred Thompson
Senator Harry Reid got rid of filibuster rights in the Senate Thursday, setting off a civil war. The noise was deafening. Butterball picked the wrong week to blame this year's skinny birds on a shortage of large-mouthed turkeys, when you see how D.C. is overstocked.
The Gallup Poll said Mitt Romney would defeat Barack Obama if last year's election were held today. It's academic now. Mitt lost the presidential race last year when any idiot could have beaten President Obama, but Mitt Romney proved he's not just any idiot.
Senate Democrats stated Friday that ending the filibuster would help them complete their agenda. So true. If you're a gay Mexican marijuana grower who snuck across the border for a free hernia operation so you can join the Navy, this is the best year of your life.
Oregon's website for Obamacare was hit by hackers Friday and health care applicants were sent to a porn site. It works great. After forty-five minutes of exploring different plans, male applicants reported they've never felt so healthy, relaxed, and ready for a snack.
— Argus Hamilton
President Obama's approval rating is at 37 percent, the lowest point of his presidency. Here's how bad it is. You know the Thanksgiving turkey he's pardoning this week? The turkey said: No pictures. It didn't want to be seen.
When President Obama was in Los Angeles, he visited the DreamWorks Studios. Now don't confuse DreamWorks with Obamacare — that was a dream that didn't work. This is DreamWorks, it's totally different.
— Leno
This weekend President Obama announced that the U.S. and Iran have reached an important step in freezing Iran's nuclear program. When asked how they'd finally reached the agreement, Iran said, "Patience, compromise, and oh, we lied. Not in that order, actually."
People are talking about how Obama was finally able to get this deal with Iran. What happened was, Obama got tired of trying to fix healthcare and said, "Give me an easier problem. Iranian nukes! I'm on it. That's much better than what I've been dealing with the past couple of weeks."
The big news this week is that the U.S. finally got Iran to agree to stop making nuclear weapons. In exchange, the U.S. has freed up $8 billion of Iran's assets. When asked how it plans to spend the money, Iran said, "We're going to buy nuclear weapons."
– Jimmy Fallon