Click below for Tony's toons:
Click for related video:
Click below for related video:
Click below for related story:
Click below for related story: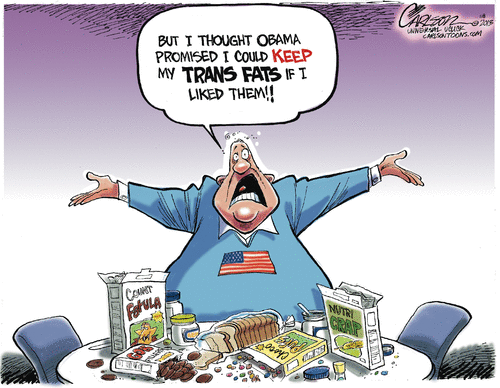 Click below for related audio:
Click below for related video:
This Thread Brought To You By The Letter C:
In Case You Missed It Dept.:
Climate scientists are now saying the current "pause" in global warming could last another 20 years. Or until they get more government grant money, whichever comes first.
It's come out that, despite what you've been told, Obamacare will not necessarily cover your pre-existing condition. On the bright side, however, Obamacare WILL let you keep your pre-existing condition.
On MSNBC, Nancy Pelosi said of Obamacare "all of the implementation has gone very well". Yes, "well" – a deep, dark hole where people fall in and get trapped.
The California Endowment has provided a $500,000 grant to TV writers and producers to promote Obamacare on fictional shows. To make it more realistic, those shows will crash if you try to watch them on the internet.
New York voters approved a constitutional amendment to expand casino gambling, authorizing as many as seven full-scale casinos. Don't worry, they're not promoting vice. The casinos are all trans-fat-free.
New Jersey law enforcement authorities are launching a "safe surrender" initiative that allows nonviolent offenders who turn themselves in to get reduced punishment. Huh. Wish Obamacare had a deal like that.
Scientists report discovering a revolutionary technique that will allow them to alter human DNA with great precision. Meanwhile, the government still can't get a website to handle "enter your name".
Scientists have discovered the earliest signs of life on Earth – remains of bacteria almost three-and-a-half billion years old. Next to it was the 2nd oldest – a Democrat trying to tax it.
— Fred Thompson
Secretary of State John Kerry failed to get Iran to reduce its nuclear capacity Monday as war tensions heightened. He's been to war, fought a war, denounced the war, then ran for president as a war hero. John Kerry fought in Vietnam for your right to be strange.
President Obama said he's sorry Americans are losing their health care plans under Obamacare after he said they could keep them. He's in a tough spot. PETA's not going to like it next week when President Obama decides to pardon Obamacare and eats the turkey.
President Obama's approval ratings hit a low in the polls on Monday. The disastrous rollout of his government-mandated health insurance law has resulted in a windfall for conservatives. ObamaCare is now running twenty points behind in the polls to DarwinCare.
Bill Clinton said President Obama should keep his promise and let people keep their health plans. That is beyond parody. Next Toronto's mayor will ask President Obama two questions, what was he smoking when he made that promise and does he have any left.
Obamacare was reported to have sold only fifty thousand health policies Tuesday. It was cursed from its passage over three years ago. Andy Griffth demonstrated how much money Obamacare could save you by doing commercials for it and then dying immediately.
— Argus Hamilton
A new record was set today in the 100 meters. It was set by Senate Democrats running away from Obamacare.
President Obama said he is sorry that some Americans have lost their existing health coverage due to Obamacare. I think he's getting a little desperate. Today he said if you like your complete lack of coverage, you can keep your complete lack of coverage.
According to The Washington Post, the White House is considering appointing a civilian to lead the NSA. If you're interested in the job, no need to submit a résumé, they have all your information already. They will call you.
It seems that during his re-election campaign this year, New Jersey Governor Chris Christie paid $46,000 to get advice from former strategists for Mitt Romney. The advice he got: "If you ever want to be president, don't listen to us."
Yesterday at the White House, President Obama met with various leaders of the American Indian tribes. He promised them, "If you like your medicine man, you can keep your medicine man."
According to a new report, over a million Californians are losing their health insurance due to Obamacare. In fact, some are so angry they have already gone back to Mexico.
At a press conference President Obama talked about Healthcare.gov and he said buying health insurance is never going to be as easy as buying a song on iTunes. The answer is simple. Fire the website people and hire the people at iTunes. There you go. Couldn't be easier.
— Leno
They caught a guy in the Secret Service sending out suggestive and graphic emails to women. On the bright side, it's nice to know somebody in the White House knows how to operate the computer.
— Letterman
It seems like everyone's still pretty upset about this Obamacare website. The Department of Health and Human Services emailed 275,000 Americans, encouraging them to give the Obamacare website another try. Then they said "But one at a time, so it doesn't crash again."
It turns out that a lot of children could lose their dental insurance under Obamacare. So kids might not be able to go to the dentist. Parents were really upset, while kids said, "Four more years! Four more years!"
House Speaker John Boehner said the Senate's immigration bill is so long that nobody has even read it. It's always good to hear the Senate is taking the same approach on legislation that I take with the iTunes user agreement.
The Department of Homeland Security revealed that hackers have attempted more than a dozen cyber-attacks on the Obamacare website, but couldn't get in. Then Obama said, "But when you do, let us know how you did it!"
— Jimmy Fallon
Many scam artists are trying to take advantage of the problems with the Obamacare website. Experts say you can tell it's a scam site if it quickly and efficiently signs you up for healthcare.
You know that smiling woman who was featured on the home page of Healthcare.gov? She asked for her picture to be removed after she was cyber-bullied. She's hiding where nobody can see her — at Healthcare.gov
— Conan