Click below for related video:
Click below for related video:
Click below for related story: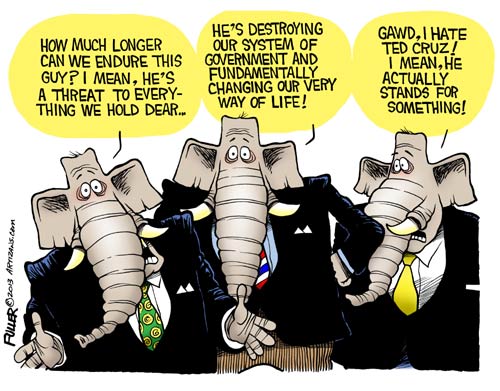 Click below for Tony's toons:
Click below for related audio:
This Thread Brought To You By The Number 0:
In Case You Missed It Dept.:
Although public tours of the White House have been cancelled, the White House logged 344 visits by lobbyists in 3 months. Couldn't they each just grab a busload of kids on their way in?
In a recent speech, President Obama said he'd be "happy to negotiate" with Republicans on the federal budget. He seems too confident. Putin must've agreed to back him up.
New Jersey's Supreme Court said a state municipal court judge cannot keep his career as a comedian and remain on the bench. Well if he still wants to make a living writing jokes, he could try handing down rulings in the 9th Circuit.
On CNN, Nancy Pelosi said there was nothing left to cut in the federal budget, "the cupboard is bare". Really? Because last time I looked it was full of pork.
Hackers hit back in retaliation for US cyber-spying on Brazil, but mistakenly targeted NASA instead of the National Security Agency. How could they mix those up? One is an organization that looks down on the world from far above the planet, and the other is a space agency.
Federal officials warn that the implementation of Obamacare could spawn a cadre of scam artists. I guess they mean in addition to the officials implementing it.
During a speech at the Center for American Progress, Nancy Pelosi quoted the Declaration of Independence and credited the passage to the Constitution. So… there are documents UNDER 2700 pages that she doesn't know what's in them?
To test the effect of long-term space travel on astronauts, NASA is looking for volunteers to lie in bed for 70 days. Know who'd be perfect for that? The guys doing the Benghazi investigation.
To avoid being fired, Lois Lerner – the IRS official at the center of the agency's Tea Party scandal – retired on a $50,000 a year pension. Sounds fair. As long as she gets audited every year.
On CNN, Bill Clinton said "I think you've got to give it the Republicans. They have a much more reliable media base". That's true. They can ALWAYS count on the networks to oppose them.
The Pentagon reports that its main battlefield intelligence network in Afghanistan is vulnerable to hackers. That just pumps me full of confidence for Obamacare's database security.
— Fred Thompson
Bill Clinton's mistress Gennifer Flowers discussed their affair Friday. Her only proof was his recorded messages on her telephone answering machine. Today, hardly a day goes that Baby Boomers don't thank God that there were no cell phone cameras in the Eighties.
North Korea's Kim Jung Un announced he's ready for nuclear disarmament talks with the U.S. It's a new low. Syria was bad enough for America's image, but how bad does it look when the only person who can protect you from nuclear attack is Dennis Rodman?
President Obama began his U.N. week in New York by meeting with Nigerian President Goodluck Jonathan. He later led a panel discussion on ways to bolster African nations. President Obama himself was in Africa only two months ago, renewing his birth certificate.
Joe Biden landed in Colorado Monday to inspect the damage from the flooding in the foothills of the Rocky Mountains. He got the green light to go Sunday. FEMA said the destruction's so complete that not even an appearance by Joe Biden can make it any worse.
President Obama gave a speech to the United Nations General Assembly Tuesday in New York. He began by saying the world is a more stable place than it was five years ago. The best way to get the audience on your side is a good joke at the start of your speech.
Congress considered a bill to delay ObamaCare to avoid a shutdown Tuesday. Senate Democrats vowed to shut down the government if they do. It's hard to believe that two weeks ago people in Washington were talking about shutting down the government of Syria.
Ted Cruz filibustered the Affordable Care Act in the U.S. Senate on Tuesday. Hopes for a deal were dashed. Republicans for a moment thought President Obama had agreed to delay ObamaCare when word swept the U.S. Capitol that the Kenyan stand-off had ended.
— Argus Hamilton
At the U.N. this week, President Obama met with the president of Nigeria, who advised President Obama to eliminate America's debt by sending out fraudulent emails.
President Obama is now making a case for raising the debt limit. He said that raising the debt limit does not increase debt. And, you know, I have to defer to the president on this one because when it comes to increasing the debt, Obama knows what he's talking about.
In his effort to try to stop Obamacare, Texas Senator Ted Cruz spoke for 21 hours and 19 minutes nonstop. That's impressive, but still eight hours short of the record held when somebody asked Joe Biden, "Hey, what's new?"
President Obama is now making his case for raising the debt limit. He said raising the debt limit does not increase debt. You know, like raising the speed limit does not increase speed.
— Leno
I wonder what President Obama will do when he retires. I bet it will involve giving back somehow. He'll make sure those in the developing world have the most important things they need to succeed — like a fake Hawaiian birth certificate.
– Craig Ferguson
Today's the annual grand opening of the U.N. We have leaders from all over the world, and when they come here they have diplomatic immunity. They can do whatever they want, break any kind of laws. I saw a dictator today walking up Broadway carrying a 16-ounce soda.
– Letterman
The U.N. General Assembly is here in New York City. Today, President Obama gave a big speech on the Middle East. The leaders from the Middle East said, "You have touched our hearts, and from now on we shall have peace." And Obama said, "Really?" and they said, "No, but the look on your face was priceless."
Despite all of the controversy, President Obama says he's still moving forward with the healthcare law. In fact, the White House announced that residents of Florida will have 102 different insurance options when Obamacare rolls out. That's because if there's one thing people in Florida love, it's a confusing number of options.
Treasury Secretary Jack Lew just sent a letter to Congress, telling them that the government will run out of money on October 17. Congress said, "Then why didn't you just send an email instead of buying those expensive new stamps?"
– Jimmy Fallon