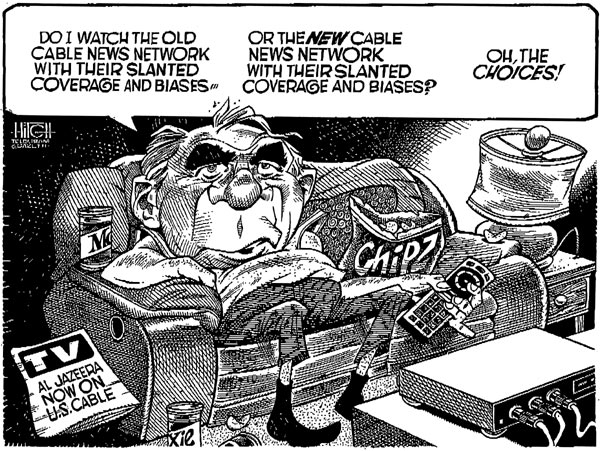 Click below for Baloo's site:
Click below for related video:
This Thread Brought To You By The Letters A & P:
In Case You Missed It Dept.:
During a speech at Georgetown University, U2 frontman Bono said, "capitalism takes more people out of poverty than aid". Hope he enjoyed his last White House visit.
White House economic adviser David Furman said there's "no evidence" that Obamacare is making employers cut back on worker hours. Probably because the guys responsible for reporting it had their hours cut back.
Speaking to State Department personnel, Secretary of State John Kerry said that "this little thing called the Internet … makes it much harder to govern." Good.
A "Climate Change" rally held in DC last week attracted ZERO attendees. Oh my. THAT'S gonna be a tough one to blame on global warming.
The National Park Service said that approximately 1,000 dead fish have been found floating in a pond at the National Mall. Huh. I didn't even know Obamacare covered fish.
EPA Chief Gina McCarthy said that enforcing strict greenhouse gas regulations "will grow the economy". Sure. Like Roundup grows dandelions.
— Fred Thompson
Egypt spiraled out of control as Muslim Brotherhood rioters sacked Coptic Christian churches and looted stores Friday. This time the White House didn't blame it on an ant- Muslim video. This uprising has Muslim outrage over a rodeo clown written all over it.
President Obama interrupted his vacation at Martha's Vineyard to address the chaos in Egypt Thursday. His concern was real. The moment Obama was told that churches were being burned and stores looted, he asked the next three groups if he could play through.
The NBC mini series starring Diane Lane as Hillary Clinton was reportedly optioned to Fox for production Friday. The roster of co-stars is not complete. Casting directors are looking in every bank in Little Rock for the right sack of cash to play the love of her life.
President Obama refused to take sides in Egypt's turmoil Friday, calling for each side to stop the violence. Things are spiraling out of control. The Mideast is teetering, NSA surveillance is being uncovered, and Hillary is trailing a rodeo clown by ten points in Iowa.
Cairo erupted in pitched battles between the Army and the Muslim Brotherhood last week. Many middle class Egyptians are revolting because in their system the poor get handouts and the rich get bailouts. Thank God that could never happen in the United States.
The Secret Service decided the rodeo clown who made fun of Barack Obama is not a threat. He's still comedian in chief. President Obama could tell ten jokes making fun of himself and bury any prop comic who can't tell an Obama joke without a mask and a bull.
Eliot Spitzer led all polls for New York City comptroller Friday but Anthony Weiner's campaign faltered. The city appreciates effort. Eliot Spitzer rents hotel suites and pays a call girl four thousand dollars to commit adultery while Anthony Weiner just phones it in.
San Diego Mayor Bob Filner was accused by a fourteenth woman of sexually groping her Friday. He's defiant. Last week he grabbed the microphone at his press conference and vowed that he will never resign but the microphone's taking two weeks off for therapy.
The Washington Post reported that the NSA is monitoring private phone calls in the U.S. It sent a chill through the capital. Who wants to be overheard in Washington where nine out of ten telephone calls boil down to when can you pay me or what are you wearing?
San Diego Mayor Bob Filner met secretly with famed women's rights attorney Gloria Allred in San Diego Monday over the women he sexually harassed. For six hours Bob didn't grope Gloria and she didn't speak to reporters. They both nearly died of withdrawal.
The Butler was ripped by the GOP because it's got Nancy Reagan running U.S. foreign policy and bringing down communism. She's played by Jane Fonda. If Hanoi Jane is playing the woman who brought down communism all you can say is, sister, that's acting.
Joe Biden set up a presidential campaign organization Sunday for a White House run in three years. Raising hundreds of millions of dollars in donations will be easy for the vice president. Americans have always felt that a great comedian is worth every penny.
President Obama embarks on a two-day bus tour of upstate New York and northeast Pennsylvania to promote ways of lowering the costs of college. The president really connects well with college students. They're both in their fifth year and hopelessly in debt.
The White House announced Tuesday the First Family has added a second Portuguese Water Dog as a family pet and named her Sunny. They make great pets. The president's first Water Dog was a gift from Ted Kennedy, who discovered the breed at Chappaquiddick.
— Argus Hamilton
———————————————-
In February, Olympic champion Lindsey Vonn tore the anterior cruciate ligament and medial collateral ligament in her right knee and fractured her tibia during a harrowing ski accident in Schlamding, Austria.
Vonn was airlifted by helicopter to a hospital in Schladming.
Concerned that she wouldn't be ready for the 2014 Winter Olympics, the U.S. Olympic Committee announced today that her spot on the U.S. Olympic Team would be filled by Barack Obama.
U.S. Olympic officials said Obama deserved the spot on the team because no one has ever taken a country downhill faster than he has.