Click for NetRightDaily toons: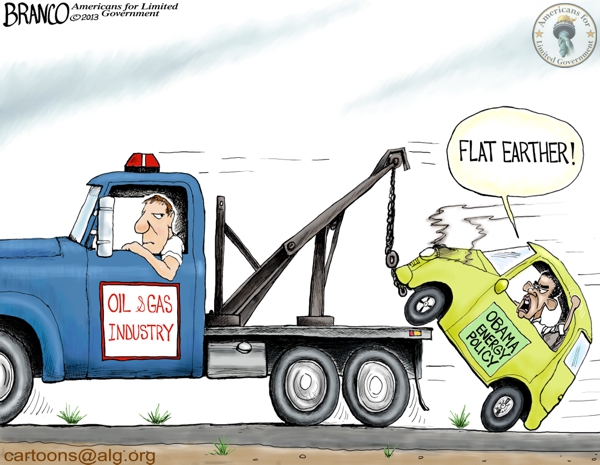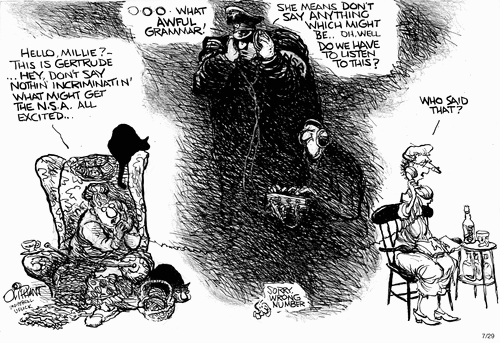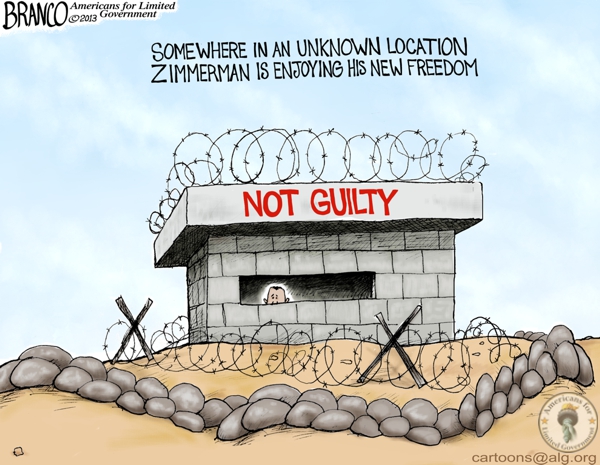 Click below for the rules: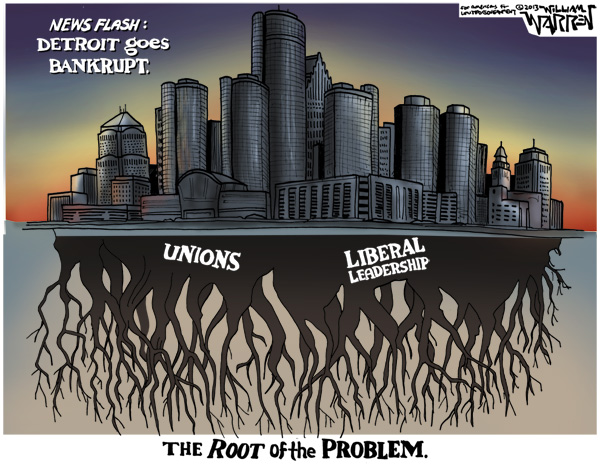 Click below for related story:
Click below for related video:
Click below for story: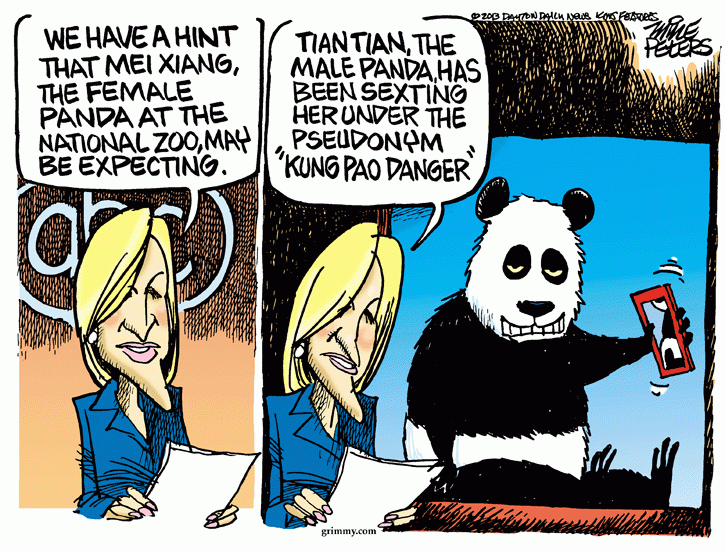 Click below for video: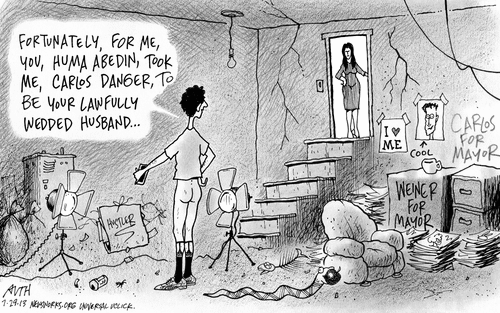 This Thread Brought To You By The Letter P:
In Case You Missed It Dept.:
Although global temperatures have been steady for 15 years, climate scientists are calling it a "pause" in global warming. My guess is they're starting to get panicky there'll be a "pause" in their funding.
A West Virginia teachers union is threatening to sue because the school board violated their "right" to wear shorts. I think they're confused. The right is to "bear arms", not "bare legs".
Nancy Pelosi announced "A Conversation on Race and Justice" on July 30 on Capitol Hill. I see they didn't go with the original title: "Agitating the Base for Fun and Profit".
US Border Patrol agents say they have detained an illegal alien who's racked up 37 criminal convictions in the United States. I thought illegals only did jobs Americans wouldn't do?
Senate Democrats have proposed increasing the budget of the Internal Revenue Service by $12 billion. Guess they need to replace all the "Denied" stamps they wore out on Tea Party 501(c)(4) applications.
A new report shows that the drop in the unemployment rate is due "almost 100%" to declines in the labor force participation rate. So… his plan is for everyone to quit looking for work so that unemployment drops to zero?
There's now an effort underway in Congress to cut Postal Service losses by ending door-to-door mail delivery. Instead, the NSA will just read your mail to you over the phone.
Can't make this up: the United Nations General Assembly adopted a resolution to designate November 19th as "World Toilet Day". No doubt to be re-designated "World Economy Day" before too long.
Deputy press secretary Josh Earnest said that President Obama "has spent an inordinate amount of time" negotiating with Congress. Yeah, it's starting to affect his ability to make his tee-times.
In France, a jewel thief made off with $136 million in loot in a 60-second daylight robbery. To put that in perspective, that's nearly 20 minutes of government spending.
A new survey show that 79% of US adults struggle with joblessness, near-poverty, or reliance on welfare. Or, as the Democrats call them – "the target audience".
ABC reports that even low-level NSA analysts have "powerful and invasive" search tools. Apparently, so do ABC reporters… AFTER Obama got reelected.
— Fred Thompson
President Obama gave an hour-long speech on Wednesday in which he complained that the House probes into the IRS and Justice Department are just phony scandals. No one paid attention. In order make the news these days, he would have to confess to lewd-texting tea-partiers to avenge Trayvon.
ABC News reported Matt Sandusky, the son of Penn State's convicted pedophile coach Jerry Sandusky, filed papers Tuesday to change his name. There's more. In an effort to upgrade its image, the city of Sandusky, Ohio, just changed its name to Anthony Weinerville.
San Diego Mayor Bob Filner was accused by more female staffers of groping them on Tuesday. He's asked for sympathy. The poor guy is a Baby Boomer who doesn't know how to text or use a camera phone and he's forced to commit adultery with his bare hands.
Anthony Weiner confessed Thursday to yet more lewd texting of messages and photos to women online. He may have had ten online affairs going at the same time. A lot of people are missing the deeper issue here, which is that Anthony Weiner looks like a giraffe.
President Obama spoke at Central Missouri College Wednesday. His staffers refused to allow College Republicans or anyone wearing patriotic clothing into the building. Everyone not allowed inside was forced into a boxcar and transported to IRS headquarters.
The IRS employees' union stated Friday they don't want to switch health coverage to ObamaCare. IRS agents have seen it and they don't want it. ObamaCare limits the number of pints of blood you can have, and vampires won't go any place that's got a two-drink limit.
The White House asked Russia to return fugitive NSA leaker Ed Snowden Friday. He has a new story. Ed now says he was forced to watch and listen to everything Anthony Weiner does in private, and he plans to use the insanity defense if he is deported to the U.S.
Anthony Weiner's cyber-sex lover Sidney Leathers identified herself on Friday. Miss Leathers said she had a six month long cyber-tryst with Mr. Weiner. By coincidence Leathers and Weiner is the name of the drive-through wedding chapel in West Hollywood.
NBC announced it will produce a miniseries about the life of Hillary Clinton starring the beautiful Diane Lane as Hillary. The casting raised a few eyebrows. Diane Lane is such a glamorous upgrade that Bill Clinton just volunteered to play himself in the movie.
President Obama held a meeting with his cabinet at Camp David last weekend. They kicked around new tax-raising ideas in the next House budget negotiations. There was once a time when a fool and his money were soon parted but now it happens to everybody.
NBC announced Monday it will air a four-part miniseries about the life of Hillary Clinton that stars Diane Lane. The network says it will cover her good times as well as her dark times. Already the rumor is that NBC has offered Jay Leno the role of Vince Foster.
The White House asked stars to urge young adults to buy ObamaCare. Young people must pay to subsidize health care for older people, so their parents will live forever and they'll never inherit any money to pay off their student loans. It's only a matter of time before young people secede from the Union.
San Diego Mayor Bob Filner enters sex rehab Monday after nine women accused him of groping them. It's a two-week rehab. The city council appointed the head of the local cantaloupe pickers union to fill in for him while he's gone, to ensure that there's a seamless transition.
NBC announced Monday it will air a four-part miniseries about the life of Hillary Clinton that stars Diane Lane. It won't be easy. To make the movie watchable for the entire family they may have to inject some sex into the love scenes between Hillary and Bill.
Monica Lewinsky's secretly recorded messages to Bill Clinton sixteen years ago were leaked to the Enquirer Thursday. This was the last thing Hillary needed now. There's enough fresh evidence on the audio tape to impeach the Clinton Library and remove it from Arkansas.
Anthony Weiner released his first TV commercials in his race to be elected New York mayor. Two months ago when the campaign first began, he said more texts and lewd photos might come out and they have. He's running as a politician who keeps his promises.
— Argus Hamilton
In a speech about the economy, President Obama said we've all been distracted by phony scandals. It's time we started getting distracted by the phony recovery.
The head of the TSA said beginning later this year people can pay an $85 fee that will allow them to go through the airport line very quickly with minimal checking. Or as terrorists call that, money well spent.
Illegal border crossings in California are way down this month, especially in San Diego. It's because people are scared they might get groped by the mayor if they come across.
Seven women have come forward to say they've been sexually harassed by San Diego Mayor Bob Filner. The mayor has agreed to intensive rehab therapy. They say it's a 12-step program. Here's a simple 12-step program: Just stay 12 steps away from all women.
More problems for America's creepiest mayor, San Diego's Bob Filner. An eighth woman has now come forward to say that she was sexually harassed by him. She said she would've come forward sooner but the line was too long.
Mayor Filner now wants the city of San Diego to pay for his sexual harassment lawsuit. He says it's only fair because he harassed women only on government time, never his own time.
In what has to be the most outrageous defense ever — this is real — Filner's lawyer said if there's any liability, it's the city liable for failing to give the mayor sexual harassment training. Oh, come on now. Just shut up!
— Leno
Anthony Weiner's campaign manager quit. He says he's applying for a much less stressful job that has a better chance of success. He is trying to get Paula Deen elected president of BET.
In a new interview, Republican Senator John McCain implied that he might vote for Hillary Clinton in 2016. McCain's getting old. He also said he'd consider voting for oatmeal.
– Craig Ferguson
Anthony Weiner has vowed to continue to fight. He said he is staying in the race because he cares deeply about the people of New York — except for the one he is married to.
– Jimmy Kimmel
Former governor of New York Eliot Spitzer has now gone on record as saying that Anthony Weiner is not fit to be mayor. Well, that's good enough for me. That's all I needed to hear.
Mayor Bloomberg wanted to outlaw giant sugary drinks. He wanted to try to force a ban on sugary sodas and they overturned it. That's fine, but what about a ban on texting while you're running for mayor? Why can't we get a ban on that?
– Letterman
Poor Anthony Wiener. His campaign has hit a snag. The first survey since his recent scandal found he is now second place in the race for New York City mayor. He said it's a minor setback, while the guy in third said, "Are you kidding me? What do I gotta do?"
Weiner is in second place. He is no longer in the lead. And it gets worse when you hear the guy in first place is Carlos Danger.
It's been a rough week for Anthony Weiner. His campaign manager in the race for mayor just quit because of Weiner's newest scandal. And it's tough finding a replacement because every time he emails someone, they're like, "I'm not opening that."
This new sexting scandal was too much, so his campaign manager called it quits. Weiner was like, "What kind of person quits because of something like that?" Then voters said, "Ideally? You."
Anthony Weiner has fallen to fourth place in the Democratic race for New York City mayor. Even worse, third place is a write-in candidate — "Anyone else but Weiner."
There's a new study that says a wedding is actually the best place to meet someone. Then Anthony Weiner said, "It's true. At my wedding I got like five or six phone numbers."
– Jimmy Fallon
A new poll concludes that most Democrats think Anthony Weiner has basically lost his mind. Weiner replied, "The important thing is I haven't lost my phone."
– Conan