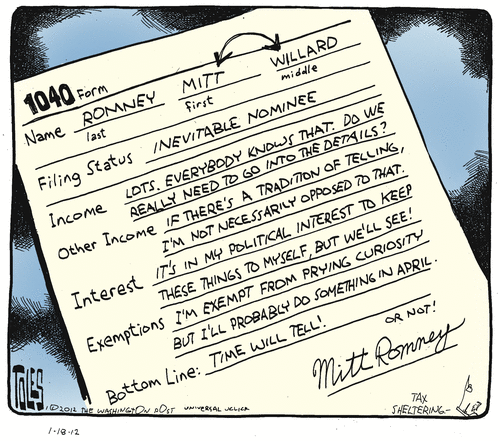 Click below for related video:


Click below for related story:


This Thread Brought To You By The Letter P:
In Case You Missed It Dept.:
During a speech in Utah, Eric Holder said, "let's be clear – we have not yet reached the promised land." 11 million illegal immigrants, on the other hand…
During a recent interview, Michael Moore refused to credit capitalism for his commercial success in the film industry, saying "socialist countries" have movies too. Yes. As well as jails full of dissident filmmakers.
Because of DC's restrictive Wildlife Protection Law, rats and other vermin are required to not be killed, but captured and relocated. 3 word solution: "Iranian air drop."
During an AP interview, Al Gore accused MSNBC of not being "progressive" enough. I'm sure MSNBC's other viewer agrees completely.
MSNBC's Julian Epstein praised President Obama for creating the "kind of economic turnaround we have not seen in our lifetime." Apparently Julian thinks we were born yesterday.
— Fred Thompson
Angelina Jolie and Brad Pitt met with President Obama for an hour in the Oval Office Thursday. They discussed ways to facilitate adopting children from Africa. President Obama said he appreciated their offer but he decided to remain a ward of the government.
President Obama blamed Richard Nixon for bloated bureaucracies Friday. History is a circle. Obama blamed Nixon, who blamed Eastern elites, who blamed FDR, who blamed Hoover, who blamed Germany, who blamed Greece, who blamed the banks, who blamed Obama.
The Pentagon denounced four Marines who urinated on four dead Taliban soldiers they had killed. It's not what it looked like. The full tape will show they were celebrating their victory by pouring a bucket of Gatorade on their commander and some of it splashed.
The Artist won the Golden Globe award for Best Picture Sunday in Beverly Hills. It is a silent film about a Hollywood star during the silent movie era in the Twenties. There was a time when actors didn't talk, they had to pantomime their opposition to Republicans.
The White House rejected the Keystone pipeline bringing oil to the U.S. from Canada Wednesday. The environmentalists don't want oil coming from a country that doesn't hate us. They will never persuade us to go solar if someone's not blowing up our buildings.
President Obama disclosed he'll give his Democratic convention acceptance speech this fall at Bank of America Stadium in Charlotte. It seats seventy-four thousand people. The stadium is already sold out, but Obama persuaded the job fair to give him half an hour.
Newt Gingrich's ex-wife Marianne gave a two-hour interview to ABC News airing out the dirty laundry in their marriage. This could actually help him. America once had a president who cut taxes and cheated on his wife, and it will forever be known as Camelot
Wisconsin Democrats turned in petitions to recall Governor Scott Walker. They included signatures of Mickey Mouse and Adolf Hitler. The Jewish vote and the Donald Duck vote will be with Scott Walker forever now that their arch-enemies have come out against him.
President Obama canceled the Keystone oil pipeline project running from Canada to Texas Wednesday. The president said he will not be pressured. The Republicans had given him a deadline to approve the project by Washington's Birthday, and no Democrat will be held to a deadline on the birthday of a slave owner in the middle of Black History Month.
Jimmy Carter accused Newt Gingrich of using veiled racism in calling Barack Obama the Food Stamp President. He's furious. It was bad enough for Carter that he lost the title of Worst President in History but now he's losing the title of the Food Stamp President, too.
— Argus Hamilton
President Obama will be going to Disney World where he'll unveil his new plan to create jobs. And what better place for the president to talk about his jobs plan than Fantasyland?
A cardiologist now says that former Democratic presidential candidate John Edwards' trial has to be delayed because Edwards has a life-threatening condition. Hey, don't all husbands who cheat have a life-threatening condition?
A hiker who was lost in a blizzard said he stayed alive by digging a snow tunnel and burning dollar bills for warmth. Today he was offered a job as President Obama's economic adviser.
President Obama was in Disney World today where he unveiled his new plan to create jobs. He was joined by Mickey Mouse and Minnie Mouse but not Goofy. He had to stay behind to tend to his vice presidential duties.
You know why President Obama chose Disney World? It was the only place with longer lines than the unemployment office, so it looks better.
— Leno
Some big election news. Jon Huntsman has officially dropped out of the 2012 presidential race. Wow, not having Jon Huntsman on the campaign trail is gonna be like . . . Well, it's gonna be like having Jon Huntsman on the campaign trail.
President Obama took Michelle out to a steak restaurant for her birthday, marking the first time in months the words "Obama" and "well done" appeared in the same sentence.
President Obama aired his first campaign ad of 2012, which promotes his record on clean energy. Obama's a big environmentalist. In fact, for the election he plans to recycle the same promises he made four years ago.
— Jimmy Fallon
During a search of a Guantanamo Bay prison cell, guards found a copy of al-Qaida's magazine. The lead article was "10 Ways to Find Out If Your Man's an Infidel."
— Conan