Click below for related story: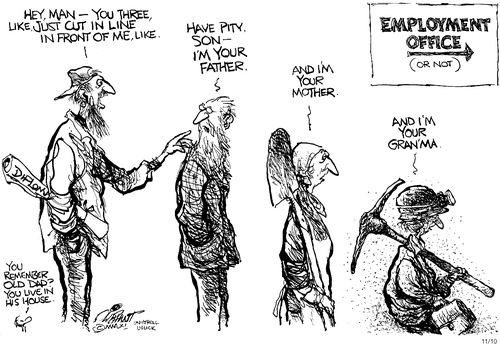 Click below for related video: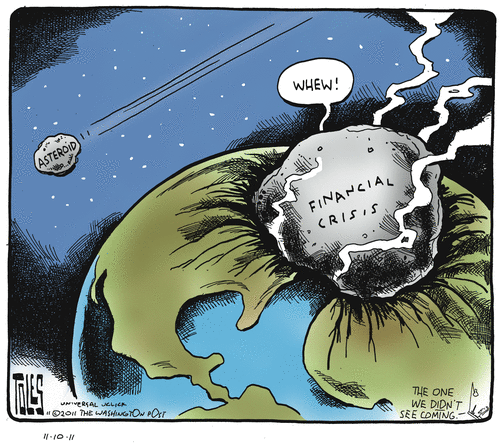 This Thread Brought To You By The Letter "W":
In Case You Missed It Dept.:
A giant asteroid will pass within 200,000 miles of the earth this week. I heard Politico already has plans to accuse it of "planetary harassment."
At a speech in Berkeley, EPA Administrator Lisa Jackson described Congressional Republicans as "jack-booted thugs." Sounds like a case of the pot calling the kettle jack.
A Utah man lied to authorities and said he was an illegal immigrant so he could get deported to Mexico and evade time behind bars. Now THERE'S a tourism slogan: "Mexico – still beats jail."
A Florida man told police that he was robbed at gunpoint by a man wearing a Ronald Reagan mask. Might've been Obama. He's been trying to hide behind Reagan's image a lot lately.
Democrat Senator Richard Blumenthal is calling for federal money to be spent giving people free diapers. Once again proving what Mark Twain said about politicians and diapers needing to be changed frequently & for the same reason.
While plugging his book on MSNBC, Tom Brokaw said Americans should stop "piling up more houses, more cars, more things." Don't worry, Tom. Obama's economy is way ahead of you on that score.
A former Navy SEAL described the official account of the bin Liden raid as a "fairy tale." If he think's THAT'S off, he should try reading the administration's budget projections sometime.
During an interview with USA Today, former President Bill Clinton said "I don't think Americans can continue this level of income inequality." I notice this wasn't immediately followed by "here, take mine."
A new Obama 2012 ad claims that if Republicans win, "all of our progress could be erased." Anyone else think Republicans should run that exact same ad?
In Sacramento, the homeless are complaining about the Occupy protesters, saying, "give us our park back." So… the movement's biggest accomplishment so far is taking homes from the homeless?
Occupy Wall Street protesters say they plan an "epic march" from New York City to DC. If they really want epic, they should head northeast & take the long way around.
During a speech to future college students, Michelle Obama advised them, "buy what you can afford." Do you suppose there's any chance we could get her to give that speech to her husband?
NBC's David Gregory commented that there was no "Grand Wizard" in the Republican Party to force Cain out. I really hope he just finished watching a Harry Potter movie.
During his harassment press conference, a reporter asked Herman Cain if he'd take a lie detector test. No word yet on when they'll ask Eric Holder that one.
President Obama cut $4 billion from his administrative budget, but will spend the money on other programs. I swear, if Obama were in a sinking boat, he'd drill a hole to let the water run out.
Republican Congressman Marco Rubio complained that the FCC is "regulating where regulation is not needed." Wait… I thought that was Obama's campaign slogan?
— Fred Thompson
New York Police said Zuccotti Park where Occupy Wall Street protesters are camped has become a law-free zone. The protesters do drugs, rob and sexually assault each other and everyone agrees not to tell the cops to keep them out. They put a twenty-four hour guard on the Statue of Liberty because this is how the planet of the Apes always ends up.
The White House saw a poll Tuesday saying seventy percent of Americans believe the country is headed in the wrong direction. It's grim. Half of the young people in America have had to move back in with their parents and the other half are moving home to Mexico.
Congress subpoenaed the White House to hand over all records of the Solyndra solar panel company loan. They lost a half billion in taxpayer money after they contributed to the Obama campaign. It's taught as the law of supply and demand in Chicago public schools.
Herman Cain's GOP poll numbers rose Friday despite charges of sexual misconduct against him. Democrats remained mum. Their baggage includes Ted Kennedy, John Edwards and Gary Hart, not to mention that only Jerry Rice had more career grabs than Bill Clinton.
The Labor Department said Friday the U.S. added eighty thousand jobs, which lowered unemployment a tenth of a point. However, that doesn't count discouraged workers. Every time a Labor Department pollster goes into a bar to count heads, he never comes out again.
Arab television network Al-Jazeera announced in Dubai Thursday that it will launch an all-sports channel to air throughout the Arab world. It's an encouraging sign. If we can get the Arab world hooked on football, Israel will be safe on Sundays, and that's a start.
New York's Wall Street protesters tried to block the entrance to Goldman-Sachs. This was really dumb. These traders could destroy Occupy Wall Street by borrowing money against the movement, securitizing it, then selling the bonds to pension funds and Greece.
President Obama met with European leaders on the French Riviera Friday to discuss the EU debt crisis. They met at the world's most expensive hotel to discuss ways to cut spending. Italy had to default on its debt to pay the tab for the mini-bar in their hotel room.
President Obama issued a worldwide holiday greeting to Muslims who celebrate the Hajj this month. Obama has an eighty percent approval rating in the Muslim world. They understand that he has to order one of their leaders killed a month or get impeached.
The White House imposed a fifteen-cent tax on Christmas trees Tuesday to fund a PR program to push Christmas tree sales. The next day the president wisely canceled it. If he puts a tax on Christmas trees those stories that he wasn't born in America will never die.
President Obama did a test of the Emergency Alert System Wednesday at eleven in the morning. A buzzing alert broke in on all radio and TV shows. They wanted to test his ability to seize the airwaves and give instructions during an attack by Rush Limbaugh.
Minnesota former Governor Jesse Ventura lost a federal lawsuit against the TSA and announced he's giving up his U.S. citizenship and moving to Mexico. He was once a Navy SEAL in Vietnam. LBJ ordered him back home because we weren't that mad at the Viet Cong.
The GOP presidential candidates held a debate on CNBC Wednesday where they took turns bashing China as the source of U.S. economic woes. The rhetoric got very nasty. If Chinese leaders watched this debate they must wonder about the country they just bought.
— Argus Hamilton
President Obama joined other world leaders in trying to convince Greece to cut back in spending and reduce their debt. This is part of their "do as we say not as we do" summit, apparently.
If they're serious about cutting back on spending, how about not holding these summits in the world's most expensive places like the South of France? What's wrong with the function room at Denny's or the Waffle House?
Herman Cain said he would be willing to take a lie detector test. But that's kind of a double-edged sword. If he fails, his career is over. And if he passes and it turns out he's not a liar, he's obviously not cut out for politics.
A new poll taken abroad found that President Obama's policies are more popular overseas than they are here in America. That's because he's created more jobs overseas than here in America.
The White House says there is no evidence at all that earth has been visited by aliens. Do you believe that? We can't even find aliens sneaking across the border.
After losing a lawsuit with the TSA, former Minnesota Gov. Jesse Ventura says he's going to renounce his U.S. citizenship and move to Mexico. Hey, if he changes his mind, he can always sneak back in.
According to a U.N. Report out this week, Iran tried to design a miniature nuclear weapon. Investigators say this plot was hatched by Iran's miniature president.
— Leno
According to a new poll, 42 percent of Americans say they are uncomfortable with the idea of having a Mormon president. When asked why, the people said, "We're still getting used to having a Muslim president."
The Republican presidential candidates held a debate in Michigan. Just what Michigan needs: 12 more people looking for a job.
— Conan
There's another Republican presidential debate tonight. This one is focused on why there were so many Republican presidential debates.
— Jimmy Kimmel
——————————————–
These four older ladies who lived in Yugoslavia always sat outside together near the church and chatted about when they were younger. One month ago, they pooled their money together and bought a laptop.
Never having been, but having heard all about Florida, they just happened to click on St. Augustine, FL. They read about the "Fountain of Youth" claimed by the Spaniards when they arrived there. They collected up all they had left and sent for four bottles of water. As soon as the shipment arrived, they drank as directed.
The rest of this story will make you a believer, because
here they are today……………….
No……This is TRUE! Really!
Would We lie to you?
We have a limited supply of this water available at an incredibly low price of just $1,499.95 a bottle.
Seriously …
HURRY BEFORE THE INVENTORY RUNS OUT!!!!
Make checks payable to:
Democratic National Committee
430 S. Capitol St. SE
Washington, DC 20003